Famous Other People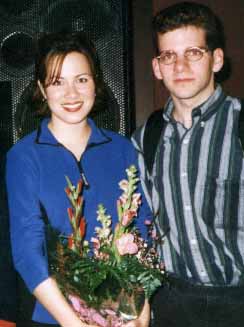 The beautiful Ms. Shannon Lee, star of WMAC Masters and also happens to be the daughter of Bruce Lee. She was in the audience to see the Beijing Wushu Team's Culver City performance in April '98, and she was nice enough to let me snap this photo.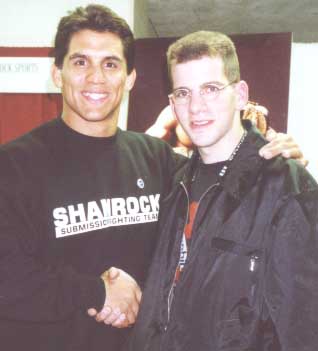 At the Arnold Schwartzenegger Classic Fitness weekend in Ohio, I got the chance meet some cool people, including UFC Champion Frank Shamrock, who was a really nice guy. I actually also met his brother, Ken Shamrock, UFC fighter turned Pro Wrestler. He was LESS of a nice guy (I think he was really tired, as it was pretty late when we ran into him), but he let me take his picture too. But unfortunately I lost that roll of film!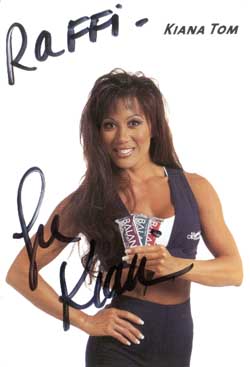 Another picture on the roll of film I lost was of me and Kiana Tom, the ESPN2 fitness TV show host. Luckily I also grabbed an autographed post card. Kiana was really friendly despite the fact that I asked her some somewhat stupid personal questions based on erroneous information I had heard about her on Entertainment Tonight...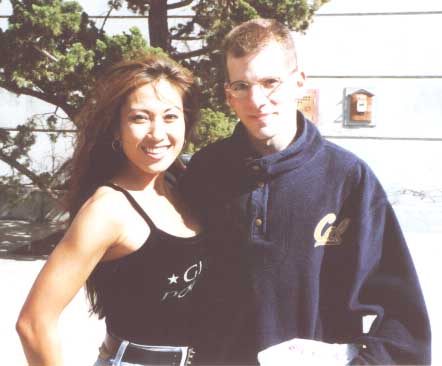 Chae, most famous of the WCW Monday Nitro Girls visiting UC Berkeley February 1999. Unfortunately her busy schedule made it impossible for her to make it to see the Beijing Wushu Team's Berkeley performance the following month, but she thanked me for the invitation. The picture below is of Chae with a bunch of wushu freaks. Apparently when everyone was posing for the picture I decided to cop a feel on her elbow. Notice the beaming smile on Eric's face. This picture was taken a few seconds after Eric got the dragged onto the dance floor by Chae and shook his money maker.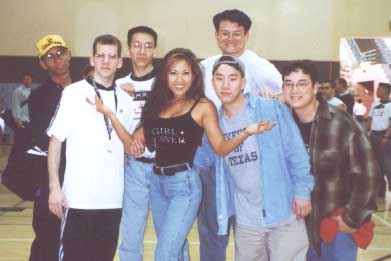 &nbsp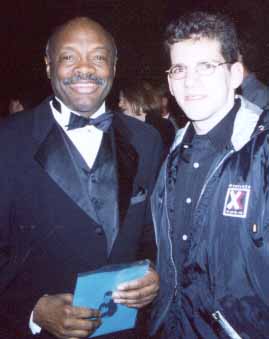 No San Francisco Major Willie Brown wasn't at the Beijing Team's performance, nor does he practice the art of Wushu. This picture was actually taken at the California Music Awards, held in San Francisco in March 1998. As you may know I have often lampooned the Mayor for his brief speech at the commencement of Wushu Day 1996. Well I was there for Wushu Day, apparently the Mayor came for "Waashoo Day."

&nbsp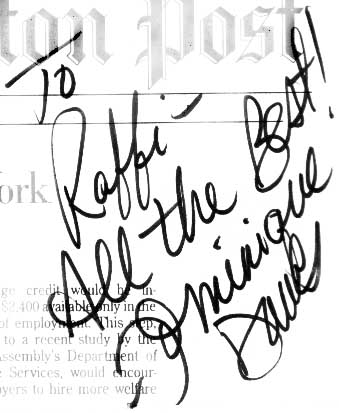 My mom actually got this autograph from Olympics Gold Medaling Gymnast Dominique Dawes for me. I have no idea why the only piece of paper she could sign it on was a photocopy of an article from the Washington Post about social programs...
---
Last modified 2/02/02