CLICK HERE TO GO BACK TO BEIJINGWUSHUTEAM.COM
CLICK HERE TO GO TO MY 2000 CHINA TRIP PAGE
&nbsp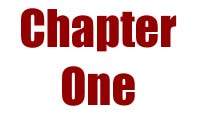 After my exciting trip to China in the Summer of 1999, I knew I had to go back. Last time I spent the entire time in Beijing doing wushu. This time I wanted to try and see some of the rest of China. Turns out the timing was pretty good, the Beijing Wushu Team (who I wanted to see again, even if I'm not going to train) was going to be in the Southern Chinese city of Xiamen, which is in Fujian. I also have a former classmate who lives there. Xiamen isn't too far from Hong Kong, where it so happens, I had a few friends visiting or living in at the time. Cool! So no matter what, I'll have people to visit, so even though I was travelling by myself, I wasn't completely helpless.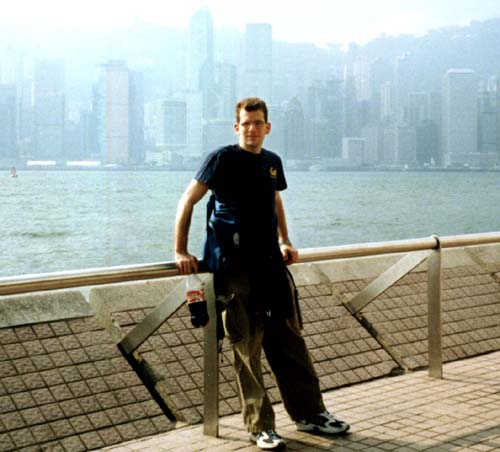 Posing in front of the famous Hong Kong skyline from across the way in Kowloon, and yes, the refreshing qualities of Coca-Cola are universal. Despite being December, it was pretty warm, I'd hate to feel July. Note that I've actually digitally enhanced the background in this photo, it was pretty hazy that day, so the picture didn't come out very well.

I was able to get a great deal on a plane ticket, flying into HK and flying out three weeks later from Beijing. And the only thing I had planned was going to Xiamen sometime inbetween. The rest of the trip was wide open. I had fantasies of seeing Guilin or Xi'an, taking the train across the Chinese country side... but alas, none of that happened, but that doesn't mean I didn't see and do a lot of cool things (some of which I will share with you, some of which is none of your business!) :)

I was really surprised by Hong Kong. I had never been before, but I had watched a lot of HK movies, so I was somewhat familiar with the place - Ekin Cheng and his gang run Wanchai and Causeway Bay, and you better not mess with them... You'd think it's just a city, can see everything in a day or two? But there's so much to see. You quickly realize that its not just a city, it's a tropical island in the South China Sea. A ten minute bus ride to the other side of the island and you're a world away, lush green forests, exciting winding coastal roads high above the rocky shoreline. The beauty of the city and island of HK easily rival that of the San Francisco Bay Area I now call home.

On the second day there I met up with my friend Kin Ping from New York. We first met through the net several years ago, and it happened that we were going to Hong Kong at the same time. My second day in HK we met up in Kowloon and took a day trip to Macau.


&nbsp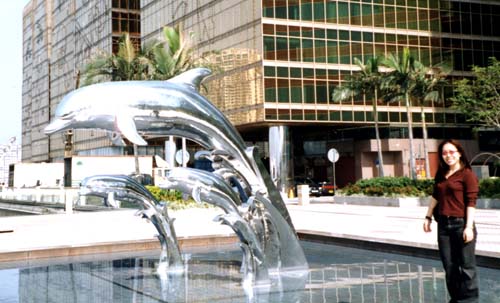 My friend Kin Ping posing in front of a cool statue of some dolphins near the Kowloon ferry terminal
Macau is only about an hour away by hydrofoil. The jetfoils pretty cool, its a lot different than any other ferry I've ever been on, thats for sure. It reminded me a lot of getting on a plane that just never takes off. The main reason Macau is popular among HK residents because of its legalized gambling. Ever see the God of Gamblers series of movies? The casinos are exactly like that. smokey, noisy, lots of action going on (although I didn't see anyone who looked like Chow Yun Fat dropping millions at the bacarach tables). Golfing in Macau is another popular distraction for HK's rich too apparently.
The city also has a lot of Portugese flavor, as it was a Portuguese colony until December 1999. Most signs are in Portuguese as well as English and Chinese. One place we thought we'd check out was the Guia Fortress, a 17th century fortress built on the tallest hill in Macau. A lighthouse was built there in the 19th century. From up there you can see a lot... but even though it's a smaller city than HK, the air was pretty hazy here too (pollution from the nearby Mainland I guess?)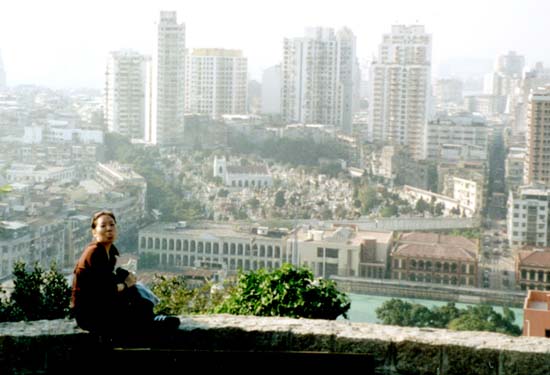 Kin Ping and I stopped for a rest and to enjoy a little scenary. That's the Saint Michael's Cemetery in the background.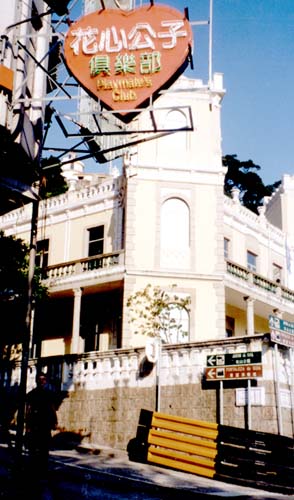 On the left, is a fine example of another attraction of Macau, besides gambling and golf courses. Here is a club, we found near Guia, by the name of "Playmate's Club." That's my siloutte on the left standing in the shadows. I was going to stand out in the sunlight, but I had to watch out, despite the narrow european style curvy streets, people seem to drive pretty fast, nearly hitting me a few times.
You'll notice the nice classical colonial architecture across the street, there is a lot of that all over Macau, if you weren't paying attention, you might think you were in Lisbon... except I don't know if they have places like "Playmate's Club" in Lisbon.
And because I know you're wondering - I didn't go inside the "Playmate's Club," so I can not say whether or not there actually were any playmates inside.

&nbsp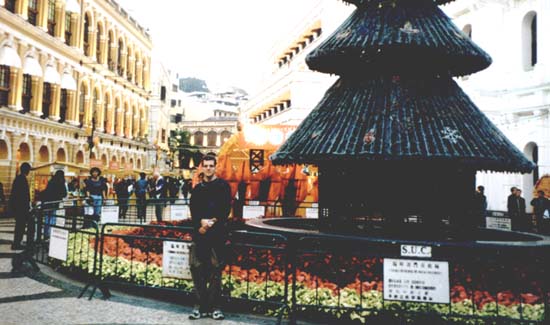 It was about two weeks before Christmas, so they had the Christmas tree out here on Avenida Alameida Ribeira.
| | |
| --- | --- |
| | |
| In front of the Hotel Lisboa Casino. Even this den of sin was celebrating Christmas. | Kin Ping in front of a 20 m statue of Kum Iam, the goddess of Mercy. |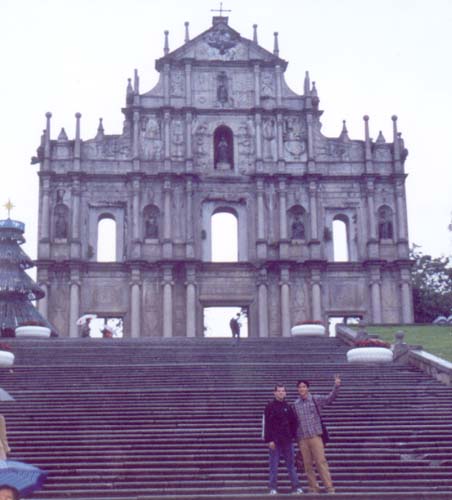 Dan and I pose in front of Macau's most prominent landmark, the facade of Saint Paul's Church, which I somehow missed seeing the first time to Macau.
One of my other friends in Hong Kong is superstar movie star Dan Wu. A fan webpage can be found by clicking here. Before Dan was an international movie hunk, he did wushu and would train with us during his breaks from school. Dan actually is the founder of the University of Oregon Wushu Club.
A few days after I got to HK, he came back from filming a movie in Beijing. Despite being a busy jet setter, Dan and I got to hang out a bit, and I got to meet some of his friends and see how much his lifestyle has changed from back in the day. (Which is why I've decided to drop out of school and become a movie star...) Ironically we ended up going back to Macau as Dan was looking for some good deals on antique furniture, and apparently Macau is the place to find them.
Dan hasn't let his stardom go to his head, which is especially hard in a place like Hong Kong, where everyone lives, breaths and eats movie stars and tabloid gossip - people actually really know thieir movie stars around there, so walking around the streets of HK with Dan was weird. I would say like 90% of the females under the age of 30 we passed on the street recognized him almost immediately. Which is not something most of us are used to dealing with (I still get freaked out a little when people come up to me at tournaments and say "hey, you're that webpage guy, aren't you???").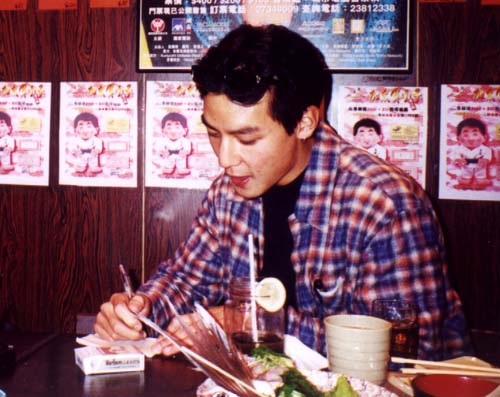 Hope Dan doesn't mind, but here's a candid shot I took of him stopping to sign an autograph for an emboldened busboy who dared interrupt our dinner.
| | |
| --- | --- |
| | |
| One day I took a trip to Lantau Island (soon to be the home of a new Disney Park, btw). Despite being only a 20 minute ferry ride from Kowloon, Lantau Island was totally rural, at least it was until the new airport was put in and the subway line and bridge built to connect it to the rest of HK. But before all that came, someone decided to build the world's largest outdoor sitting statue of Buddha. | Four out of six Hong Kong residents are talking on cell phones at any given point in time. At least that's impression you get from this photo I snapped of some HK street life. I was surprised at how backwards the US is compared to Asia in cell phones. Cell Phones are tiny, cheap and proliferate every aspect of life here. You can use it to buy sodas in the ferry terminal and they even work while on the subway. [You may recognize this area, those are the famous escalators in Central, featured prominently in the film Chungking Express] |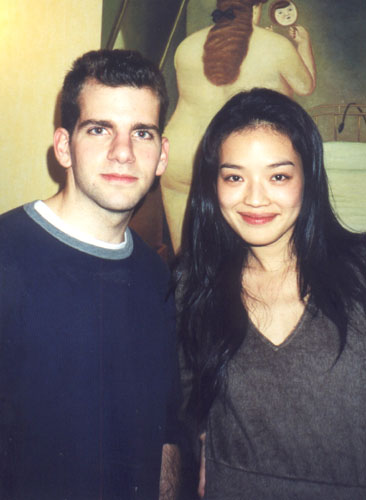 She was really cool.

After eight days of running around back and forth to Macau, seeing many parts of HK, and getting taste of HK life, I started planning the next part leg of my trip. By this time the Beijing Team was supposed to be in Xiamen, so I figured I'd best get moving. I decided I'd take the train up to Shen Zhen, the Chinese city across the border and fly to Xiamen directly (its a lot cheaper than flying from HK).

But the last night in HK, Dan and I had dinner with some of this friends and afterwards we caught up with a few friends of his, one of whom happens to be the Hsu Chi (aka Shu Qi aka Hsu Kei), the famous actress and former model. (Click here to view her filmography).

She's really nice, but unfortunately doesn't speak very much English. She's originally from Taiwan, so unlike most HK natives, she did not learn English in school. Therefore we could only converse in Mandarin, as my Cantonese is non-existent. Luckily in the course of the evening, an excuse came up for me to break out my camera, so I wouldn't seem like a complete doofus asking her for a photo. I knew I had to get this on film so when I write this photoessay people would believe me when said I met her. :)




&nbsp

The next chapter will focus on my exciting time spent in the wilds of China.

CLICK HERE TO GO TO THE NEXT CHAPTER
CLICK HERE TO GO TO MY 2000 CHINA TRIP PAGE

---
---
Click Here to go back to beijingwushuteam.com

Send feedback to raffi at beijingwushuteam.com