CLICK HERE TO GO BACK TO THE FRONT PAGE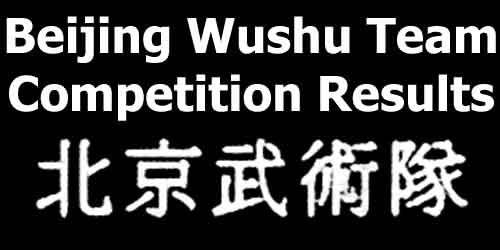 Actually, the title of this page is a misnomer, this page is really a collection of results of China's Wushu Competitions and news about them. Due to the difficulty in obtaining this info in English, I'm not always able to get complete results or timely news. As with everything on this site, the results listed will tend to focus on the Beijing Wushu Team (hence the name of the page). This page is impossible without the help of my sources, who I will try to credit as much as possible (especially Lisa, the coolest person in the world).
---
10/5/04 - Wow, actually kept my self-imposed deadline! Here's the results (no article unfortunately) from the 2004 Women's Finals, held on 9/15-16 in Guangdong:

National Women's Wushu Forms Championship Results (from Wushu.com.cn)

Long Fist
1: Yuan Mengjie (Chongqing)
2: Cao  Jing (Shandong)
3: Jin Bingbing (Zhejiang)
4: Liu Xueyan (Jilin)
5: Ye Zhuqian (Zhejiang)
6: Wang Xiaona (Beijing)
7: Hou Tianqi (Shanghai)
8: Zheng Tianhui (Army)


Broadsword
1: Wang Xiaona (Beijing)
2: Wang Xiaonan (Hebei)
3: Cao Jing (Shandong)
4: Ding Haijuan (Shandong)
5: Hou Tianqi (Shanghai)
6: Jing Fang (Hebei)
7: Jin Bingbing (Zhejiang)
8: Geng Xiaoling (Henan)
              

 Staff
1: Cao Jing (Shandong)
2: Li Mengmeng (Junti)
3: Ding Haijuan (Shandong)
4: Hou Tianqi (Shanghai)
5: She Fang (Anhui)
6: Lin Xia (Fujian)
7: Sun Nannan (Jilin)
8: Liu Xiaolei (Beijing)
                              
  
Straightsword
1: Zhao Yangyang (Henan)
2: Zhang Chunyan (Zhejiang)
3: Li Nuo (Sichuan)
4: Ma Lingjuan (Anhui)
5: Zhao Qian (Wuti)
6: Ji Taijing (Jiangsu)
7: Ye Zhuqian (Zhejiang)
8: Liu Li (Zhuxia)

                            
Nan Dao
1: Lin Fan (Fujian)
2: Wang Lin (Guangdong)
3: Ou Yang Shuting (Fujian)
4: Zhou Lin (Sichuan)
5: Zhang Yaqi (Army)
6: Zhou Qian (Zhuxia)
7: She Fang (Anhui)
8: Yang Beibei (Wuti)


 Nanquan
1: Zhou Lin (Sichuan)
2: Lin Fan (Fujian)
3: Zhang Yue (Army Sports Inst.)
4: Zhu Wenjun (Shanghai)
5: Sun Nannan (Jilin)
6: Jing Fang (Hebei)
7: Zhou Fangxu (Henan)
8: Ou Yang Shuting (Fujian)


Spear
1: Zhang Chunyan (Zhejiang)
2: Zheng Tianhui (Army)
3: Zhao Yangyang (Henan)
4: Li Nuo (Sichuan)
5: Zhao Qian (Wuti)
6: Xu Suo (Zhuxia)
7: Guo Di (Jilin)
8: Guo Yan Nuo (Shandong)


Taiji Sword
1: Zhang Fang (Guangdong)
2: Cui Wenjuan (Army)
3: Yuan Yuan (Beiti)
4: Wang Fang (Sichuan)
5: Yang Yan (Individual)
6: Li Jin (Shaanxi)
7: Li Chunyan (Shanghai Jidi)
8: Wu Wenmei (Hejian)


Taiji Quan
1: Cui Wenjuan (Army)
2: Zhang Fang (Guangdong)
3: Li Jin (Shaanxi)
4: Dong Qing (Army)
5: Wu Xueqin (Wuti)
6: Xu Haifeng (Shanghai)
7: Qiu Huifang (Beijing)
8: Zhou Jing (Hubei)


Sparring Sets
1: Fang Xiujuan〓Li Xue〓Wang Ju (Tianjin)
2: Tong Peng〓Fu Linuo (Hebei)
3: Zhang Li〓Lu Li〓Fan Jing (Jiangsu)
4: Guo Yan〓Wang Ruimin (Guangdong)
5: Yu Shan〓Zhou Lin〓He Jingya (Sichuan)
6: Zhao Ruixia〓Wang Yufen (Tianjin)
7: Zhang Yi〓Liu Fan〓Zhang Man (Shaanxi)
8: Zhu Yamei〓Wang Yanping (Zhuxia)


Congrats to my friend Wang Xiaona! :-)
---
10/03/04 - I have the first set of results from September's Nationals in China. First up is the Men's, I'll try to do the Women's later this week. And I also have a nice informative article about the women's qualifiers that I only recently finished getting translated. First things first:

National Men's Wushu forms Championship Ends(from Wushu.com.cn)

From 9/25-26, in Tianjin's Daxiang sports center the 2004 National Men's 
Wushu forms championship was held.  From across the nation there were 30 
teams represented and 102 althetes.  Divisions in this competition included: 
Changquan, Nanquan, Taiji, Straightsword, Broadsword, Spear, Staff, Southern 
Staff, Taiji sword and sparring sets. After two days of intense competition, 
here are the results:

2004 Men's Wushu forms Championships Sports Ethics Awardees:
Team: Tianjin, Army Team, Henan Team, Wuhan Tiyu Institute
Athletes: Yang Nianwu Yan Bingxun, Zhao Qingjian, Ou Xiasheng, Li Fukui, 
Cheng Yangjia, Ma Zhen, Chen Shuai, Li Bing, Chen junjie,  Zhang xiaolei, 
Zhang  Weizuo Chang Hui, Geng Yao, Wu Yatong,  Zhou Jing,  Zhang kunrong,
Dai  Rui,  Zhu Hainan, Wei Jian,  Su Baocheng,  Yi Peng, An Xiaowei, 
Gao Zhenfeng, Zhang Fei
Judges: Cao Kerun, Li Qiaoling, Huang Biao, He Tianjin, Li Yingjie


2004 National Men's form Competition Championship Results list:

Men's Changquan:
1: Yuan Xiaochao (Shanxi)
2: Zhao Qingjian (Beijing)
3: Zhang XiaoleiZhejiang)
4: Dong  Jie (Army Sports Inst)
5: Yang Yuhong (Shanghai)
6: Cheng Kai (Chongqing)
7: Geng  Yao (Jiefangjun)  
8: Wang Shuai (Shandong)

Men's Broadsword
1: Zhao Qingjian (Beijing)  
2: Zhang Kunrong (Shanghai Jidi)
3: Liu Zhiyong (Shanxi)  
4: Zhang  Feng (Shandong)
5: Zhao  Jie (Hebei)  
6: Zhao Zhiguang (Shandong)
7: Yang Nianwu (Anhui)  
8: Qin Pengfei (Hebei)

Men's Staff
1: Zhang Kunrong (Shanghai Ji Di)
2: Wei Yalei (Henan)
3: Zhang  Wei (Shanghai Ti Yuan)
4: Liu Zhiyong (Shanxi)
5 (tie): Shao Chang Jun (Beijing) /  Zhang  Feng (Shandong)
7: Yang Nianwu (Anhui)
8: Zhao Qingjian (Beijing)

Men's Straightsword
1: Wei  Jian (Shanghai)
2: Su Baocheng (Qinghai)
3: Zhao Jun (Army)
4: Wang Cong (Henan)
5: Liu Zhigang (Shandong)
6: Wang Zi (Shanghai)
7: An Xiaowei (Jilin)
8: Duan Yongbin (Shandong)

Men's Spear
1: Su Baocheng (Qinghai)
2: Wang  Cong (Henan)
3: Wei Jian (Shanghai)
4: Lan Tian (Shaanxi)
5: Shi Kun (Beijing)
6: An Xiaowei (Jilin)
7: Zhang Jie (Fujian)
8: Liu Yujie (Army)

Men's Taiji sword
1: Huang Yingqi (Fujian)
2: Wu Yanan (Shaanxi)
3: Zhuang Zhiyong (Guangdong)
4: Yi Peng (Hubei)
5: Cai Yunlong (Individual Competitor)
6: Luu Fuxiang (Hubei)
7: Ma Jianchao (Henan)
8: Dai Rui (Xi'an Tiyuan)

Men's Taijiquan
1: Huang Yingqi (Fujian)
2: Cai Yunlong (Individual Competitor)
3: Yi Peng (Hubei)
4: Wu Yanan (Shaanxi)
5: Zhou Bin (Fujian)
6: Li Wei (Shenzun)
7: Dai Rui (Xi'an Tiyuan)
8: Zhuang Zhiyong (Guangdong)



---
7/17/04 - Finally some results from last month's men's competition. Here's a translation of an article off of wushu.com.cn:
The Curtain Draws on the 2004 National Men's Wushu Championships
7/15/04

The 2004 National Men's Wushu forms championships were held 6/12-6/14 in Wuhan City, Hubei Province's Huananshifan Institute's Athletic Center. In all from across the country there were 37 teams and 204 athletes attending the competition. The Shandong team captured the team competition, the Guangxi team won the group set event, Shanghai Team's Wei Jian took the All-Around Champion title. There were 10 individual event golds (won by the following teams): Fujian - 3, Shanghai - 2, Hubei, Henan, Tianjin, Beijing, Shanghai Jidi - 1 each.

The specific winners are as follows:
Team Competition: Shandong Team
Group Set: Guangxi Team
Individual All Around: Wei Jian (Shanghai)
Changquan: Yang Yuhong (Shanghai)
Nanquan: Chen Shuai (Fujian)
Taijiquan: Yi Peng (Hubei)
Straightsword: Wang Cong (Hunan)
Broadsword: Zhao Qingjian (Beijing)
Spear: Wei Jian (Shanghai)
Staff: Zhang Kunrong (Shanghai Jidi)
Nangun: Song Lin (Fujian)
Taiji sword: Zhou Bin (Fujian)
Sparring Sets: Zhu Hainan, Wang Yansong, Cheng Runkun (Tianjin)


This competition is a relatively large competition, also it has some changes in wushu competition rules. From a spectactor and technology level point of view, things have improved. They are testing new wushu competition rule changes, keeping with the new national wushu taolu skill development requirements and the current training and competition situation. At the same time, they are following the course established for national competitive wushu athletics.

The National Sports Ministry's Athletic Wushu Center Director Wang Xiaolin offered positive remarks of this competition, at the closing ceremonies he said: "This competition's athletes have a new style, new sense, new face, combining the cultural essence of traditional wushu with splendid modern style. This is a fushion of the chinese people's cultural spirit and the modern Olympic spirit, revealing wushu cultural's distinctive enchantment and modern aesthetic. This demonstrates our country's wushu athletes's health, vigour, bold trailblazing, and positive enterprising spirit. Every team seriously endeavored to try the new competition regulations and new training methods and requirements. This comeptition shows that our men's taolu athletes' skill level has expanded and improved. Wushu taolu's athleticism and specatability are both strengthened. I hope each team can take advantage and strengthen their training for this year's Asian wushu Championships and next year's world wushu champions and the 2006 Asian Games, and the 2008 olympics, to develop their skill to win honor for the country with their outstanding skill.
Hmm, I'm not so sure I buy all that stuff there at the end... (and yes, I did invent a new word, 'spectatability' there...) They also put up an article summarizing the Women's competition (held two weeks later), I'll translate it when I get another free minute.
But I also forgot to post this up, its the only other article I could find about the results:
National Wushu Competition ends, our Province's Athlete Yi Peng gets the Gold.
6/15/04

Hubei Ribao - Zhao Feng, trainee reporter: Yesterday the National Wushu Competition being held at the Huazhong Teaching University's Youming sports hall ended. Our province [Hubei]'s athlete Yi Pengduo was #1 in Men's Taijiquan, winning the gold medal. This event is sponsored by the Hubei province wushu administration center, and is the first time Huazhong Teaching University has hosted a national level wushu competition, and there were over 30 teams representing their areas, nearly 400 top athletes of the wushu community were attending. On the evening of the 13th, during the men's taijiquan event, Hubei Team's Yi Peng performed splendidly, conquering the ring's judges, bravely taking the prize for this event. He took the Hubei team's only gold medal. After the competition, Yi Peng's coach Zhao Yong said: "Yi Peng has been training for this event since this winter, the movements and chorreography has been largely changed from the previous version. But with musical accompaniment, the movement's power is enhanced and enlivened. We will seriously evaluate the results in order to strive for a good outcome in September's national championships.
---
10/8/03 - Results from the 2003 Nationals Women's Competition:
National Wushu Championship finished, Zhejiang wins 4 gold medals, the most winning team.
9/16/2003

Part-time reporter Yong Jundao: 2003 "Ticai Cup", National Wushu taolu championship (Women's Division) finished on the 14th of this month at Henan Province's Sports Center. During three days of intense competition, the rankings of the skilled Wulin females has been determined: Zhejiang Team won four gold medals, becoming the most winning team, Beijing got three top places, Liaoning, Hubei, Anhui, Guangxi, Ningxia, Guangdong, Tianjin, Hebei each got one gold. Henan, Beijing, Anhui three teams have the honor to recieve the "Sport Ethics Prize." Hebei, Shanghai Tiyu and Fujian Teams got the top three places in the total team points.

This competition, starting on the 12th, sponsored by the National Sports Bureau's Sport Wushu Center's, was hosted by the Henan Province Sports Bureau, it was also the first implementation of the new compulsory movements. At the competition for the team and individual all-arounds, individual and group events, there were 160+ taolu athletes from 33 teams registered.
---
10/3/03 - Results from the 2003 Nationals Men's competition:
National Wushu Championships Sparring Event - Tianjin Team Takes 2nd Place
9/29/03

The three day National Wushu Championships (Men's division) ended yesterday in Zibo, Shandong. Two days before, after Wei Yueyong won Nanquan, local athletes competed in the sparring set division, showing much power, taking the gold medal in this event. In this competition, the Tianjin Wushu Team took two golds, three silvers and three bronze medals, a difficult accomplishment.

Zhu Hainan, Wang Yang Song and Cheng Runkun formed one team, and Wu Zeren, Yang Xiaolong and Zhan Changcheng formed the second team. The aspects of height, difficulty, novelty, risk and beauty of movements, separated the champion from the runner-up, these reflect this city's unique specialty in the sparring set division.
&nbsp
2003 National Wushu Championship Draw to a close, Shaanxi's Su Kefeng nabs the Gold.
9/29/03

Yesterday from Shandong's Zibo good news came, our province's taolu team [Shaanxi team] showed great skill: altogether getting one gold, four 4th places, two 6th places and one 7th.

Every year the Chinese Wushu world has two big competition events, but the competition held in the first half of the year was cancelled, making this final competition very intense. For our taolu team's gold medal is from verteran Su Kefeng. In the bajiquan event, he showed a very high level, becoming the champion.

The Sanda team and taolu team altogether took two golds and one bronze, achieving their predetermined goals.
---
4/04/02 - Here's a new article off of www.sinowushu.com that I translated:
What's Wu Bin Been Up to Recently?
3/31/2002 by Han Longyuan

Lately Wu Bin hasn't been serving as the head coach of the Beijing Wushu Team, so the author can't help but secretly wonder, is he sitting at home unemployed? The author interviewed this legendary wushu leader recently at his Ditan sports center.

&nbsp

Author: Coach Wu Bin, its been said "a whole year's work depends on a good start in spring," in this critical year of the fight to get Wushu in the Olympics, what have you been up to?

Wu Bin: From 2002 on, wushu's focus should be first and foremost on developing wushu skill in order to prepare for entering the Olympics. Currently the International Wushu Federation and the Chinese Wushu Association are both focusing on this job, this is their number one priority, the International Wushu Federation chairman Li Zhijian is whole heartedly working towards getting Wushu in the Olympics. The Chinese Wushu Association's Li Jie is creating a "Wushu Into the Olympics" campaign. We in the Beijing wushu community definitely want to support this effort, we want to improve the sport of wushu and simultaneously promote it as a healthly activity for everyone and increase appreciation for wushu.

We at the Beijing Wushu Association announced our plans a long time ago, we want to do a really good job with our first big event, the Beijing Taijiquan, Taijisword and Push Hands tournament. We want to select the best athletes to attend the National competition. This event will be hosted by the Ditan Sport Center on April 27th.

&nbsp

Author: Wu Bin, there is news that you are no longer serving as the Beijing Wushu Team's head coach. What are your plans now?

Wu Bin: This is true, I've already passed the baton onto the younger coaches Yan Pinghe and Cui Yahui. Coach Yan will lead the men's team and Coach Cui will lead the women's team. Right now the Beijing Team is entering into a hard new period of training. The Beijing Team's ranks are in order, and their spirits are high, I'm very confident in them. Right now I've been invited by the East Beijing Sports bureau to help them train a new team of young athletes. This is going smoothly, the training center is already recruiting students nationwide, even though this was just publicized recently, we've already had many parents bringing their children in to try-out.

&nbsp

Author: I'm very happy to hear this great news! What is this wushu training center's objectives? Will it's curriculum advance the goals you mentioned before?

Wu Bin: Thank you. Principly, We are aiming at developing athletes for the 2008 olympics, the aspects we look for are: body type and physical health, especially speed, explosive power and flexibility. Of course team members' mentality and character are also important. This time we are recruiting a group of up to 40 males and 20 females to start training the first of September. The center's plans call not only for starting a long term training class, but also develop several different short term programs with classes scheduled every day from tuesday through sunday. We plan on training not only to increase wushu skill, but also to build character and discipline and overcoming the problems faced by only children.

After leading the Eastern Beijing Sports Bureau, I'm working planning the Ditan Sports Center and Physical Education Hall and the Beilu school, which includes an elementary and high school to improve their facilities. After this is solved, we can focus on training outstanding athletes in all aspects, character, wisdom and body. It really will be an international level training center.

&nbsp

Author: Besides training for competitive wushu, what other aspects will it cover?

Wu Bin: For developing Beijing's wushu athletes, competitive wushu is only one aspect. Traditional Wushu is the foundation of chinese martial arts, in Beijing's many styles, there are many 'crouching tigers and hidden dragons' (hidden potential), especially taiji, bagua, xingyi, baji, tongbei, paochui, huaquan, fanzi, chaquan and the many traditional weapon styles, therefore we must carry on these traditions as the foundation of wushu. Also we want to continue to cooperate with other city and provincial wushu groups, and welcome international groups to come and study.

&nbsp

Author: We hope your training center will develop new approaches to developing wushu and sow the seeds of a new rank of wushu athletes!

&nbsp

The Wu Bin Wushu training center contact information is: 010-64245625 and 64264768 (Ms Zhou and Ms Wang), 64245618 (Fax). Information regarding to recruitment will be presented on www.sinowushu.com in the future.
Here are some pictures from the article:

The Ditan Sports Center
The Wushu Training Hall
The Student Dormitory
The Ditan Sports Center Hotel
The Training Center's Offices
The Gym that will be used for the 4th International Wushu Invitational

---
8/13/01 - Just a quick link and quasi-paraphrasing.
Beijing Wushu Team starts their third round of examinations

The gist of the text here is that the BJ team had two testing sessions today (this was written on the 4th), from the results of the test, they can tell that the team has improved. Next weekend will be their final round of testing before attending the 9th All China games wushu competition in ShunDe, Guangdong.
The /cool/ thing is, I was actually there when this was happening. I talked to the guy from Sinowushu.com even. Although for some reason he didn't mention that in his article. ;P

Since I was there, I'll describe the pictures, the first one is of the judges table obviously, facing the competition ring where they were performing. On the left in Pink is former Beijing team member Ling Hua, I don't remember who that is behind her, I think Lu Jinming, and next to him is Cui Yahui, currently coaching the women's team. In the back corner the sports school's doctors were actually doign a lot of pre and post performance tests, that included blood tests (for doping I assume since they test for that at the competition), measuring heart rates, measuring different body parts and yes, the urine test too (they went down to the bathroom to do that, not right there).

The second picture is of Liu Qinghua performing the new compulsory Changquan. She performed it during the morning exam, since she's participating in changquan and the current format requires them to botn the compulsory and an individual form. For those of you who haven't guessed, she's right inbetween the jump front and jump inside in the first section.

The third picture is Pan Haohao, I don't remember what events she did that morning though (maybe straightsword?) and the last picture is Shao Changjun, who's staff really kicked ass.

Also for those of you who can read Chinese, check out this article -

Beijing Wushu Team will leave for Guangzhou on the 16th to attend the 9th All China Games

Basically it lists the athletes from the Beijing Team attending as well as some of their vital stats, I'm working on getting a translation.
---
7/10/01 - Another article on the Beijing Team from Sinowushu.com:
Beijing Team in Yantai for Outstanding Training
(Tue Jul 3 07:43:49 2001)

Since arriving on the 5th of June, the Beijing Wushu Team has already spent a month in Yantai. In this time, the Beijing Team's major goal has been to acclaimate and increase the team member's physical level. The day before yesterday they underwent their second test at Yantai.

From Macau's preliminary competition to the present is over two months, after the competition the Beijing Team immediately reviewed their pre-competition training and competition situations. At the review meeting, everyone believed it would be effective if they did summer training. You should understand - around the finals the Beijing Team writes a report, they formulate three stages: 1. Revision stage, the five months after the prelims, 2. Recovery phase, from June 4th to now is the recovery phase. 3. Strengthening phase, at this time the wushu team goes back to Beijing to practice, which is the wushu team's final push before the competition.

At this summer training, for the wushu team the most important things are to increase their physical strength and especially prepare physical skill. it allows the coaches to concentrate on giving everyone physical skill classes. In these classes, although the team members feel especially tired, their effectiveness was evident from the second round of testing given two days ago. On the competition floor the team members had a lot of spirit, their movements were precise, their power unrestrained. Abundant energy guarantees finishing sets. In Yantai the Beijing Team planned two rounds of tests, from these two tests you can see that the atheles technique, physical ability, etc have all clearly improved. Wu Bin says, "Although our training hasn't finished yet, the training is very effective. On the 10th of July we're preparing to go to Shandong province's Jinan, to have a training exchange with the Shandong team. At the same time we'll also test the results of this training.

In closing, coach Wu Bin said this training's goal can be successfully accomplished. Originally there were two reasons for the training: 1, correctly mentally prepare, 2. to accept Yantai Shiyan School's physical education department and Chinese wushu professor Mr. Li Mingzhi's warmhearted planning and support. No matter what training place or living area, you must have a focused plan. During the resting time, they plan a visit to Liugong Island, the Memorial Hall for the first Sino-Japanese War and other places, giving the team members a lesson in rich patriotism.
- Apologies for the poor translation! Also, in case you missed it, the other day I added up a page on the East Asian Games, with links to video clips, results and an interview with Wu Bin about the the competition. Click here to read it.
---
5/22/01 - OK, sorry for the delay, I never actually put up the final two results I found out on the web from the last day of competition, namely -

all-around female broadsword/staff - Wang Xiaona - Beijing
all-around male straightsword/spear - Gao Song - Tianjin     

But it doesn't matter, because now the official results are up. See all top 12 finishers from all the divisions, including score and team, in English, Chinese or even Portaguese - http://www.sport.gov.mo/2001/en/NationalGamesWushu/index.phtml
---
4/27/01 - More results, this time from sinowushu.com and macaodaily.com -


Women's Taiji All-Around
1. Fan Xueping  - Anhui team 17.81
2. Liang Xiaokui - Guangdong 17.77
3. Qiu Haifang - Beijing 

Women's spear.
1. Li ? Hu - Chongqing
1. Zhao Yangyang - Henan
(tied)

Men's Broadsword/Staff All-Around
1. He Jingde - Beijing 
2. Sun Chunhe - Tianjin
3. Qi Jianyong - Hebei

Men's Taiji All-Around
1. Hei Zhihong - Beijing
2. Qianfeng - Jiangsu 
3. Si Weize - Ningxia 

Women's Straightsword/Spear All-Around
1. Zhao Yangyang - Hebei 
2. Chen Bei - Shanghai 
3. Liu Qinghua - Beijing


Keep in mind that this competition is only the qualifier for the /big/ competition, the 9th All-China Games, which will be in October. The top 12 finishers in each event will qualify for that competition. So obviously we're missing a lot of results here.
---
4/27/01 - More results from the competition in Macau (the wushu prelims to the 9th All China Games) - Again, courtesy of Lisa -

(Source:  Macao Daily News)

Men's  Changquan All-Around
1.  Zhao Jianqing  (Beijing Team)
2.  Zhang Shaopeng  (Tianjin Team)
3.  Sun Chunhe  (Tianjin Team)

Men's Nanquan All-Around
1.  Ye Diao (Jiangxi Team)
2.  Liang Rongbiao  (Tianjin Team)
3.  Chen Lun (Guangdong Team)

Women's Nanquan
1.  Wang Nini (Guangdong Team)
2.  Wu Qiong (Fujian Team)
3.  Chen Yanping (Guangdong Team)

Women's Taichi
1.  Qiu Huifang (Beijing Team)
2.  Liang Xiaokui (Guangdong Team)
3.  Fan Xueping (Anhui Team)

---
4/25/01 - The first days of the Qualifiers for the All-China games are being held in Macau right now. Results from Lisa, yet again -

Men's Sparring Sets

First place--Tianjin Team (9.11)
Liang Rongbiao
Zhang Xiaopeng
Cheng Runkun

Second place--Liaoning Team (8.96)
Hu Shengjiao
Li Chen
Gao Zhi

Third place--Sichuan Team (no score available)
Ding Wei
Tang Kangmin
Ke Qingshan  

4.  Henan
5.  Hebei
6.  Sichuan (2nd team?)
7.  Army
8.  Beijing 

Women's Sparring Set   
(Source:  Macao Daily News)  

First Place-Hebei  (9.05)
Lina
He Xingna

Second Place-Tianjin (9.04)
Li Xiang
Liu Yanyan
Yu Haoer

Third Place-Hebei (no score available)
Wang Xiaonan
Zhang Yanan
Jing Fang

4. Sichuan
5. Army
6. Ningxia
7. Zhejiang
8. Beijing


Check these out, really awesome photos from the competition -

Photo of the Shandong Women's sparring set caught in action - (Sportsonline.com.cn) (4/25/01)

Jian vs. Jian - (Sinowushu.com) (4/25/01) - Thanks to Emilio for IDing the women in this one - "Fan Rui (top) and Fu Yang from the Beijing PE University Team"

Women's Changquan All-Around (individual forms & compulsory forms)
1.  Liu Qinghua - Beijing 18.08
2.  Wang Xiaona - Beijing
3.  Han Xiaonan - Tianjin

Men's Nangun
1.  Huang Shaoxiong Shanghai 8.84
2.  Liang Rongbiao - Tianjin 8.81
3.  Zhang Jianfeng - Tianjin(?) 8.75
4.  Liang Haikang - Guangdong 
5.  Chen Lun - Guangdong

Men's Compulsory Changquan
1.  Sun Chunhe - Tianjin 8.89
2.  Zhang Xiaopeng - Tianjin(??) 8.88
3.  Xiao Qingjian - Beijing 
4.  Zhang Jidong - Beijing(??) 8.86
5.  Jiang Bangjun - Guangdong 

Women's Southern Sabre
1.  Chen Yanping - Guangdong  
2.  Wang Nini - Guangdong 
3.  Huang Yanhui - Fujian 
4.  Ding Huiru - Shanghai 
  

More results coming soon hopefully!
---
4/5/01 - Here's an article about the Pre-lim qualifier for the 9th China games (poor translation by /me/ from Sinowushu.com):

Let Out All That is Stored Up, Again Achieve Brilliance
9th Athletic Competition and whole country - high and low, big and small - all wushu teams say, this year get by not easily, all four seasons pay out a lot of effort. all four season's hard work and sweat, all will finally give results this year. The Beijing Wushu Team endured many seasons of preparing and will attend the preliminary competition in Macau. Let out all that is stored up, again achieve brilliance.

The 9th National Athletic Competition's Wushu compeition's preliminary qualifier will be the 18th-29th of this month (April), The Sanda competition held in Hong Kong and the Forms competition in Macau. The wushu forms official competition time is April 24th through April 29th. In accordance with the rules meeting, the whole nation's wushu teams report on the 22nd. According to Beijing Wushu Team coach Wu Bin, the Beijing Team will arrive on time on the morning of the 22nd at the Zhu Hai (Pearl Sea) and Macau border's BeiHai (North Sea) custom's stations.

At the competition, the Beijing Wushu Team's athletes will fullfill their assignment very well, obtain the highest results. From the 3rd through the 5th and the 12th through the 14th they will have a two stage simulated competition. At that time they will go to the official sports center to undergo training and testing, in order to prepare for Macau's Sports Center's environment.

At the national games, wushu form divisions will be many, male and female each have 12 gold medals - Changquan (new compulsory forms and individual forms), Nanquan (compulsory form and individual forms), Taijiquan ( individual taijiquan and taijisword), broadsword/staff, spear/straightsword, sparring set, etc.

It is reported, the Beijing Team emphasize competition divisions of male and female changquan, broadsword, spear, straightsword, and staff. At present, Zhang Jidong, Shi Kun, Jiang Bangjun, Zhao Qingjian, He Jingde, Jian Zenjiao, Liu Qinghua, Wang Xiaona, Liu Xiaolei, Li Qiang and the other team members no matter what physical condition or skill level, all are in a prepared state, they can do high difficulty required movements sucessfully 100% of the time. The Beijing Team's morale is high, it can't be denied! The current Beijing Team lineup has depth and breadth, considerable killing power, enough to give the opponents a beating at the 9th games. Author - Han Lungyuan
[note - it actually litarally says stuff like 'killing power' and 'give the opponents a beating', I'm not making this up!]
---
9/23/00 - Men and Women's Individual Championships - held in Fujian, Fuzhou, September 7th-10th. I was able to gleen a lot of info for several different sources. Its presented all here:

Here are the Beijing Team results (translated from www.sinowushu.com):


Male:

Spear: 	1) Zhang Jidong
	2) Hei Zhihong

Staff: 	1) Jian Zengjiao
 	2) He Jingde
	4) Zhao Qingjian

Broadsword:
	1) Zhao Qingjian
	2) Jian Zengjiao
	4) He Jingde


Traditional Fist:
	Class 1: 
		3) Ding Chuanwei


	Class 3:
		1) Jian Bangjun
		2) Jian Zen Jiao

Traditional Weapons:
	Double Weapons:
		1) Jiang Bangjun
		2) He Jingde
		6) Ding Chuanwei


Women:


Spear:	3) Liu Qinghua

Staff:	1) Wang Xiaona
	3) Liu Xiaolei
	6) Li Qiang

Broadsword:
	1) Wang Xiaona
	3) Liu Xiaolei
	5) Li Qiang

Straightsword:
	6) Liu Qinghua

Changquan: 
	1) Liu Qinghua
	2) Wang Xiaona

Traditional Fist
	Class 1:  
		5) Zhao Lin

	Class 3:
		1) Liu Qinghua
		4) Xu Zhaohui

Traditional Weapons
	Single Weapons:
		4) Liu Qinghua

	Double Weapons:
		1) Wang Xiao Na
		5) Liu Juan
		6) Li Qiang

Note:  Jiang Bangjun competes representing Guangdong
	Liu Juan competes representing "81" (?)


Additionally Lisa was able to find some results for the Guangdong Team on the net:

Women's Taichi Champion: Liang Xiaokui
Men's Traditional Barehand & Traditional Weapons Champion: Jiang Bangjun
Men's Taichi 2nd place, Taichi Sword 2nd place: Kong Xiangdong 

Also Emilio shared some results on the message board (note, I tried to fill in some of his blanks as best I could) -

some men's result (sorry for spelling errors)

changquan: Zhang Shaopeng (Tianjin)
nanquan: Chen Shuai (Fujian)
daoshu. Zhao Qingjian (Beijing)
jianshu: Tang Kangmin (Sichuan)
gunshu: Jian Zenjiao (Beijing)
qiangshu: Zhang Weidong
taiji: ?

and the female's:

changquan: Liu Qinghua (Beijing)
nanquan: Wu Qing (Fujian)
daoshu and gunshu: Wang Xiaona (Beijing)
jianshu and qiangshu: Zhao Yangyang (henan)
taiji: Liang Xiaokui (guangdong)

best anecdote is that liu haibo in staff missed
the crossed leg sitting stance after the jumping
inside kick, he placed his hand on the carpet and 
went down i don't know how many places for that 
deduction!


Additional information translated from sinowushu.com (exceprts from interview with Wu Bin): (apologies for my poor translation, thanks to lisa for help with parts):

The China Wushu Individual Event Nationals took place in Fuzhou Province on September 7-10. The top 12 athletes in each event at the China Wushu Team Nationals held earlier this year qualified for this competition.

During the three days of fierce competition, the Beijing Wushu Men's Team bagged gold in Spear, Staff, Broadsword and Traditional (category 3) Barehand. On the Women's side, Beijing's Wang Xiaona took gold in Broadsword and Spear. Liu Qinghua secured gold in the Longfist competition. Overall, the Beijing Team scored satisfactorily.

The competition rules, athletes competing in changquan must compete in international compulsory and individual forms, these two division's scores are summed. Nanquan adds nan dao (women) and nangun (men), also taijiquan must practice two forms, 24 style and individual taijiquan. Broadsword, spear, straightsword, staff also add international compulsory form and individual forms.

In the men's changquan division, Zhao Qingjian's balance movement and 720 twist split had small errors, Jiang Bangjun's changquan, spear, straightsword all had small movement errors, therefore there were no first place winenrs in men's changquan, straightsword, women's spear or straightsword. Zhang Jidong got the spear championship, but during the competition period, but due to eating some bad food, he had to go to the doctor three times for an I.V. drip. which effected the straightsword competition. Additionally last year while in competition in America Liu Qinghua was injured, since returning, she injured her ACL while practicing, missing big competitions three times. After resuming practice, her movements were relatively heavy, every day she had trouble keeping food down, therefore her health is much weaker, while in this competition, her strength is better, she competed in 8 events in three days, power not as much as her strong competitions. Her spear and Straightsword balance movements both have errors.

This competition also includes unexpected winners. Guangdong, Tianjin, Guangxi continously have dominance in the Nanquan event. This time, male and female champions were taken by Fujian. For sparring sets, Tianjin usually wins every year, this time the men's champion was taken by Shanxi and the women's was taken by Guangdong.

Every year from January to April the Beijing Team usually goes to the National Wushu Training Center in Los Angeles to practice and exchange, through Mr. Eric Chen's warm invitation. But this year's invitation has some special circumstances, because there is an important competition next year. A few athletes with hopes of winning medals will go to Kunming to practice, at the same time, the Beijing Team will visit South America. Liu Qinghua, Jian Zen Jiao, He Jingde on the 19th-25th of this month will follow the Beijing Wushu Group to Tokyo Japan to attend the Tokyo Wushu Taijiquan Alliance and Beijing Wushu Society's Commemoration of 20 years of exchange.

Additionally, Beijing Team A-team member Qiu Dongxing will soon go to Washington DC's US Wushu Academy to conduct exchange, Jiang Bangjun, He Jingde and Hei Zhihong will go to the Hong Kong Wulian and HK Wushu Team for joint practice.
---
6/28/00 - Women's Nationals - Lisa came through for us yet again. Here's what she's found and passed on (subject to revision as more info comes in) -


 Team Competition:
 1.  Henan (268.39)
 2.  Beijing (267.82)
 3.  Hebei (266.08)   

 Tianjin team got 6 golds
 Henan got 4 golds
 Beijing got 3 golds
 Guangdong, Hebei and Shanghai each got 1 gold

 All-around
 1.  Wang Xiaona (Beijing)
 2.  Chen Bei (Shanghai)
 3.  Wang Xiaonan (Hebei)   

 Staff
 1.  Yang Yingying (Henan) 8.69
 2.  Wang Xiaonan (Hebei) 8.88
 3.  Liu Xiaolei (Beijing) 8.68

 Bagua
 1.  Jiang Ludi (Henan)
 2.  Chen Bei (Shanghai)
 3.  Bi Liang (Yunan)

 Spear
 1.  Chen Bei (Shanghai) 8.87
 2.  Chen Chen (Army) 8.78
 3.  Zhao Yinyin (Henan) 8.77

 Sparring Set
 1.  Liu Yanyan, Yu Haoer, Li Xiang (Tianjin)
 2.  He Xingna, Fu Lina (Hebei)
 3.  Yan Liping, Huang Yi, Liang Hao (??)

 Nanquan
 1.  Luo Haoer  (Tianjin) 8.96
 12. Liu Ai Ru (Henan)

 Taichi
 1.  Liang Xiaokui (Guangdong) 8.99


Congrats to everyone, especially Wang Xiaona. It would appear that Liu Qinghua didn't participate.

Source: http://www.hnby.com.cn/docroot/200006/27/km03/27121009.htm

By the way, there was a little on the men's nationals last month that Lisa helped me find -

Beijing Wushu Team - Heros of the entire country (sorry, thats my best translation) - Beijing People's Daily (5/30/00)

Basically it just says that The Beijing Team took the team championship out of 33 teams participating. They also took the all-around, changquan, and boardsword championships, as well as the top three places in staff. It mentions that Zhao Qingjian, Jian Zenjiao and He Jingde took firsts.
---
6/01/00 - Competition Schedule in China for 2000 - While searching for results of the recent men's competition, I did come across this schedule for competitions in China. Its in Chinese, and I don't think I'll have time to translate it. (Its not too hard to figure out if you have a chinese viewer, even if you don't know Chinese very well):

Hopefully the results will be out soon. I've heard the Beijing Team did pretty well.
---
10/99 - China Team named - Thanks to Lisa for providing us with the complete list of athletes from China going to the World Games next month.


The China Wushu Association posted it up on the web!! :)
http://www.wushu.com.cn/Home%20Page/News/New_F0014/New_F0014.htm

TAOLU TEAM:

Kong Xiangdong
Competing in Taichi Sword (Men's)
Exhibition: Taichi

Chen Lun
Competing in Nanquan (Men's)
Exhibition: Southern Staff

Zou Yunjian
Competing in Taichi (Men's)
Exhibition:  Taichi Sword  

Jian Zengjiao
Competing in Broadsword (Men's)
Exhibition:  Nanquan

Qiu Huifang
Competing in Taichi (Women's)
Exhibition:  Taichi Sword

Liu Xiaolei
Competing in Broadsword (Women's)
Exhibition:  Staff

Chen Bei
Competing in Straightsword (Women's)
Exhibition:  Spear  

Huang Chunni
Competing in Southern Sabre (Women's)
Exhibition:  Xinyi



SANDA TEAM
Xiao Xiaobang (70 KG)
Zheng Kunyou (56 KG)
Yang Zhichang (65 KG)
Chen Long (48 KG)
Wang Wenjun (52 KG)

---
9/99 - Individual Nationals - Special Thanks to both Lisa and Tony!


Held in Wuhan, Hubei Province

The Beijing team got 9 gold medals. The Women's team got 6 and the Men's 3.
Tianjin second with 6 golds.
And Guangdong team third with 3 golds.

For the Women:
 
For the Beijing Team:
	Wang Xiaona got golds in Changquan, Staff and Ditangquan.
	Liu Xiaolei got gold in broadsword.
	Han Jing got gold in Bagua.
	Li Qiang got gold in double broadsword.

Women's Nanquan:
	1. Chen Yan Ping (Guangdong)
	3. Wang Nini (Guangdong

Women's Taichi Sword:
	1.  Liang Xiaokui (Guangdong)

Women's Taichi:
	2.  Liang Xiaokui (Guangdong)   

Women's flexible weapon:
	1.  Shu Li (Hubei)

Women's Sparring set:  
	1.  Cui Dan, Liu Yanyan

For the Men:
For the Beijing Team:
	Zhang Jidong, originally from Shandong, 
		 whose mantis is awesome, got golds in straightsword and spear.
	Jian Zengjiao got gold in Broadsword.               

Men's Longfist:  
1.	Sun Qunhe (Tianjin)

Men's Nanquan:
1.  Chen ? (Guangdong) 

Men's Taichi:
1.  Zou Yunjian (Hubei)
3.  Kong Xiangdong (Guangdong) 

Traditional Weapons:
1.  Jiang Bangjun (Guangdong)

Traditional Handform:
2.  Jiang Bangjun (Guangdong)

Longfist:
2.  Jiang Bangjun (Guangdong)  

Flexible weapons:
1.  Wang Li (Wuhan Sports Academy) 

Men's Pudao:  
1.	Sun Qunhe (Tianjin)

Men's Ditang:
1.	Sun Qunhe (Tianjin)

Men's Nangun: 
1.	Zhang Xiaopeng (Tianjin)

Men's Sparring set:  
1.	Liang Rong Biao, Sun Qunhe, Zhang Xiaopeng(Tianjin)


---
Click Here to go back to The Wushu Page

Send feedback to raffi at beijingwushuteam.com