Second Trip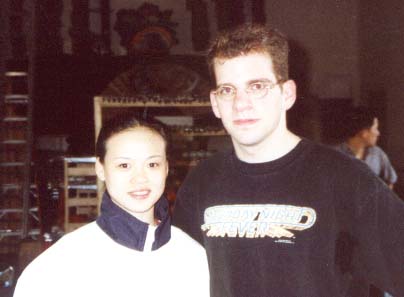 Me and my dear, dear friend, many time Women's All-Around Champion of China, Liu Qinghua, before the Beijing Team's open seminars at NWTC. Liu Qinghua ran the changquan workout, which gave about 20 lucky Americans the honor of working their asses off Beijing style.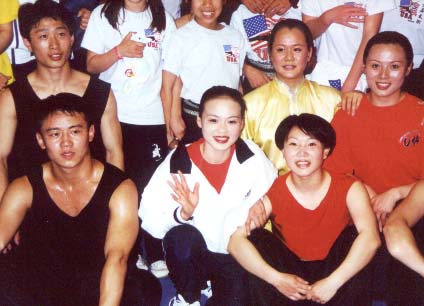 Between seminars, the team did a 45 minute performance with about 100 or so spectators. Of course afterwards there was a rush to take photos. Going clockwise, thats Shan Ming in the yellow silk, then Yang Yang, Liu Juan, Liu Qinghua, Yi Shi Xiong and Wang Xuexin. Oh, by the way, Jet Li is standing behind them (those are his fingers on the kid behind Shan Ming). My priorities differ from most...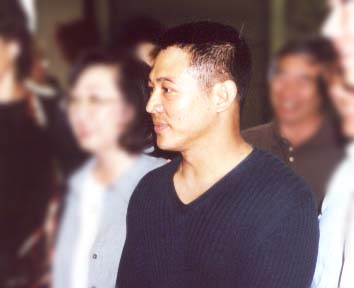 OK, here we go, Jet Li in person.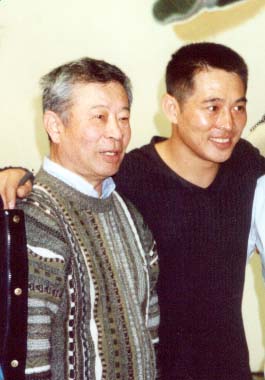 Jet along with his former coach, Wu Bin. here to read an article about Wu Bin, supposedly written by Jet himself.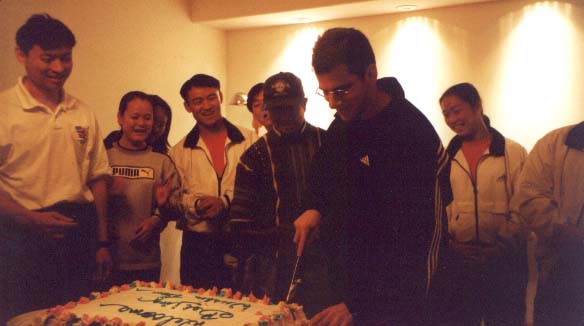 After the performance, our pal Phillip Chen invited us to join the team at a dinner hosted by his father. Afterwards the team went over to his house to enjoy some dessert. I was reluctantly enlisted by Wu Bin to represent the Berkeley crew visiting in the cutting of the "Welcome Beijing Team" cake.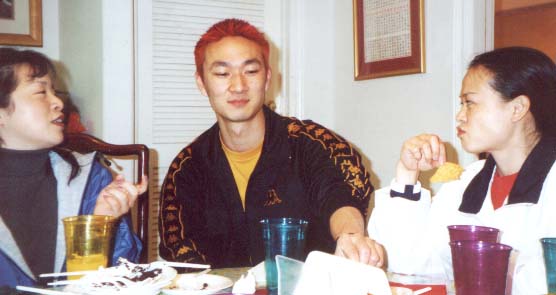 Flora, Brandon and Liu Qinghua chit-chat and enjoy nachos.
&nbsp
&nbsp
Extra Photos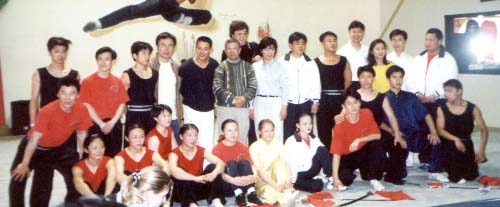 This and the next photo were taken by my pal Hansie. This is right at the end of the Beijing Team's performance. Jet came up and posed with the team.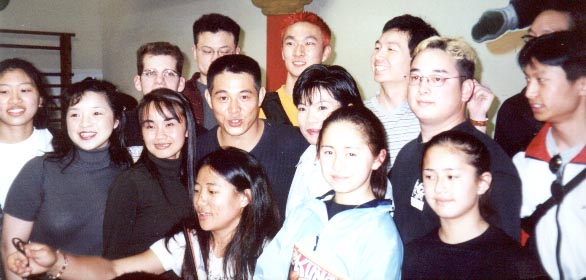 Also from Hansie (who unfortunately got slightly cutoff there on the left), this is the "Wushu People from Berkeley" picture with Jet. Representing the Pacific Wushu Academy coached by Phillip Wong and Zhang Hong Mei, The UC Berkeley Wushu Club coached by Li Jing and Wushu West coached by Hao Zhihua (immediately to the right of Jet). At least Jet's actually looking at the right camera for this one, even if the rest of us aren't.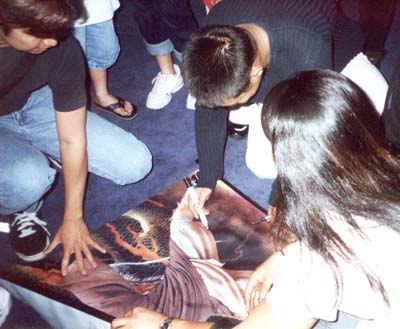 Alice came prepared for an assault on Jet. She asked him to sign her poster. Jet went the extra mile and even got on his hands and knees to satisfy a fan.
&nbsp
OK, I went back the weekend before they left, I got a ton more pics, hopefully I'll get a chance to scan them in soon.
---
---
Click Here to go back to beijingwushuteam.com

Send feedback to raffi at beijingwushuteam.com