CLICK HERE TO GO TO THE WUSHU PAGE

Wushu Notes
---
This used to be the news page for beijingwushuteam.com, going as far back as 1997!. In reality this was a blog long before the word 'blog' was ever invented. Unfortunately my career has taken my time elsewhere and this page can no longer be considered up to date. but I'll try to add important stuff as much as possible. In the meantime, let's keep it here for posterity and to serve as an archive of former competition results and other goings on (like Anthony Goh incompetence). :-P

For more frequently updated news, be sure to check out www.jiayo.com, run by my good friend Brandon.

---
10/14/07 - Sorry for dipping off the radar again (for 6 more months!)

As some of you may know, I've taken another transition in my career since the last update. I've taken up a position with some of my internet start-up buddies from college in their new venture, based here in Hong Kong.

Its an online community site, but unlike facebook, xanga or myspace, its not owned by some giant soul less corporate entity. :-P

And more importantly, its a community focused on Asian and Asian-American entertainment - specifically supporting artists and entertainers and their fans. The site is:

For those of you who are fans of Asian film, you may realize that this website was actually started by HK Superstar Daniel Wu (who also happens to have been the founder of the University of Oregon Wushu club and one of my old wushu classmates back in the day!). We've reinvented the site into a social network focusing on the entertainment and arts world.
With help from Daniel Wu and stars like Jet Li, we've created a pretty interesting format where you can blog, share pictures other and meet other people with similar interests. Lately Jet Li has been doing a lot of really cool blogs about things like Working on 'Forbidden Kingdom' with Jackie Chan and Preparing for his role in Mummy 3.
Martial Arts wise, there are a number of faces you're sure to recognize, such as:
| | |
| --- | --- |
| Jet Li - No introduction is necessary of course! Jet is a strong supporter of ours, we're happy to have him aboard | Daniel Wu - Asian Cinema star / Brandon Sugiyama's first wushu coach! |
| Li Jing - former Beijing Wushu Team Member, now Hollywood stunt woman / actress. | He Jingde - former Beijing Wushu Team Member / Current HK Team Member, former cast member of 'KA' in Las Vegas. |
| Wu Di - current Beijing Wushu Team Member and 'Kungfu Star' competitor. | D.Y. Sao - Former US Wushu Team member / long time friend of this website! |
| Phil Ng - US Wing Chun competitor / HK action actor. | Collin Chou - Martial artist and star of Matrix 2,3 and a number of HK action films along side Jet Li(Fearless, Dr. Wai, etc). |
Other, Non-wushu related people already there include Actress Kelly Hu, Comic Book artist Pat Lee and Asian-American director Justin Lin.
If you guys can check it out and sign up, that would be great. Help pass the word around too!! Thanks!
PS - Speaking of Justin Lin - for those Bruce Lee fans out there, check out the mini-site we've created to help promote Justin Lin's latest indepedent film, Finishing the Game:

Its playing now in many major cities. Check it out!
---
4/9/07
- Happy Easter everyone. A few bits of wushu related news I wanted to share:
Chinese Taijiquan Fights Shingles
BEIJING, April 9 (Xinhuanet)-- A new study suggests that Chinese martial art taijiquan offers benefits beyond improving fitness and balance: It may help prevent shingles, a painful skin condition.

The study is published in the Journal of the American Geriatrics Society quoted by the media Monday.

Taijiquan, becoming increasingly popular in the West, is well known as a good low-impact exercise for older people, but researchers at the National Institute on Aging (NIA) find that it can also affect the immune system.

Though it remains unclear how it affects the immune system, health experts are encouraged by the positive results.

"One in five people who have had chickenpox will get shingles later in life, usually after age 50, and the risk increases as people get older," said NIA Director Richard J. Hodes, M.D. "More research is needed, but this study suggests that the taijiquan intervention tested, in combination with immunization, may enhance protection of older adults from this painful condition."

One hundred and twelve healthy adults took part in the study between the ages of 59 and 86. All participants had previously had chickenpox.

For three months, half of the group took part in taijiquan classes, and the other half attended health education classes. Six months following the study, the taijiquan group showed nearly twice the immunity level to shingles than did the health education group.

In addition, this group reported significant improvements in physical functioning, bodily pain, vitality and mental health. Both groups showed significant declines in the severity of depressive symptoms.

"These are exciting findings, because the positive results of this study also have implications for other infectious diseases, like influenza and pneumonia," said the director of the UCLA Cousins Center for Psychoneuroimmunology.
(Agencies)

More Links:
Study: Tai Chi May Help Prevent Shingles(Washington Post)
Tai chi chih boosts immunity in older adults against shingles(Daily India)


Wow, great to see taiji's benefits being seriously studied by western medical research... although based on that 3rd link, it looks like it wasn't in fact taijiquan they were studying as erroneously reported by Xinhua, it was 'Tai Chi Chih'(groan).

But still, based on a search, it looks like that particular journal has published a number of articles on the health benefits of taiji. cool! One more article of note:
Jackie Chan launches Chinese TV show
Jackie Chan on Saturday launched a Chinese TV competition aimed at scouting out new action movie talent, saying more than 100,000 people have already signed up for a shot at kung fu stardom.

"A lot of actors are good at fighting but (their style) is not beautiful," the Chinese star and stunt man, who turned 53 Saturday, said in Beijing."If you can incorporate dance with an ability to perform kung fu, that would be better," Chan told an audience that included a selected 20 of the show's contestants and some Chinese celebrities.

The TV show, whose English title is "The Disciple," is jointly produced by Chan and Beijing TV Station, known as BTV. The show will run from March to October, with 10 winners appearing in a movie to be produced by Chan, organizers said. The movie will be released before the 2008 Beijing Olympics, Chan said.
___
On the Net:

"The Disciple" official Web site: http://long.btv.com.cn/
Jackie Chan's official Web site: http://www.jackiechan.com
They have an English section of the official show website here. Although I don't like some of these rules:

Contesting Qualification:
1. Chinese citizen or Chinese descendants aged from 18 to 28.
2. To have lawful identification card or passport. To be moral and don't have any bad habit.
3. Not to have signed any contract with any entertainment, broker or producing company.

Doh. As one who is neither Chinese, between 18-28 or moral... I find this discrimination outrageous! I wonder how they define 'bad habit' exactly... nail biting? Chronic procrastination? Its kind of broad...

Also you can see some of the people who have signed up. I'll refrain from commenting...
---
4/4/07 - Wushu The Movie! Brandon at jiayo.com beat me to the punch on this one - click here to read the press release on 'Wushu the Movie' - which is a new independent film looking for funding through the HK film mart exhibition. I read a bit about it in the South China Morning Post and after a bit of poking around on the internet, I found some more info:
Wanting to be with the girl of his dreams Li Er, the high school champion fighter, gives up everything to relearn the art of wushu, mending a broken relationship with his father along the way.

Situated in a remote part of China is a renowned martial arts college; Li Er is the best sanda (Chinese kick boxing) fighter there, winning him a scholarship at this prestigious school. With his best friend Zhang they rule the sanda ring until Li meets a beautiful girl, Wu Yi. She is a gifted sword fighter on the provincial wushu team.

Much to the dismay of his coach, friends and against his school's wishes, Li drops sanda and competes in wushu instead. Li will now expand his understanding of martial arts and learn why his father gave him his unique name. Along the way he must relearn wushu, retain his scholarship, gain a place on the provincial team and win Wu Yi from Hu, the provincial wushu champion.
Oh boy, sounds like a real winner doesn't it? Not cliched AT ALL! definitely not.... I can't say I mind someone making a movie with contemporary wushu training and sanda as a backdrop, but why does it have to sound so cheesy? :-P Well put your doubts to rest, cause they have some sort of preproduction teaser online:

56k version
300k version
So apparently /that/ is supposed to convince people to do invest $1.5 million. I hope the people who make the real movie aren't the same people who made that trailer! OK OK i know i'm being a jerk, i take it back. I just hope they try hard not to turn 'Wushu The Movie' into an embarassing turkey... I recommend starting with a total script rewrite.
---
3/23/07 - I dropped by the 5th Hong Kong International Wushu Festival last weekend. I took a few pictures that I thought were worth sharing (click for larger):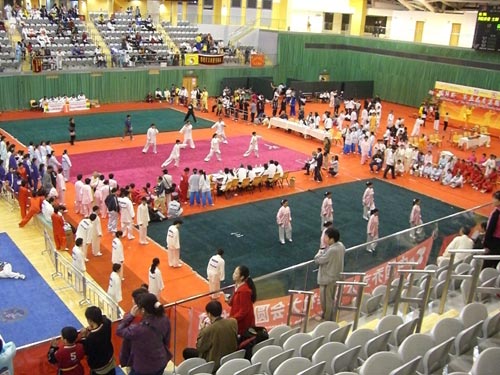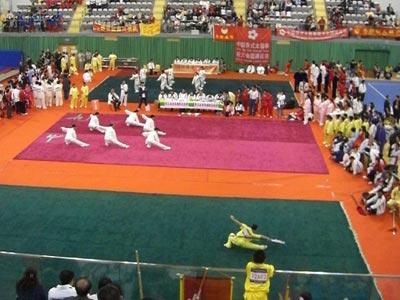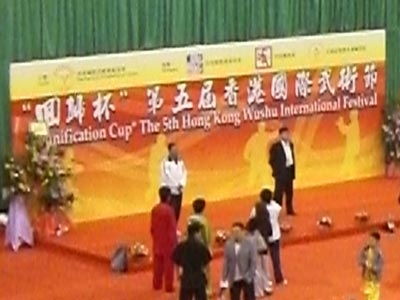 It was quite a large turnout, this was at 9pm or so on the first night, they had several rings going with various styles. It seems like Group taiji forms were quite popular, there had to be at least 10 teams participating, including at least one team of older Japanese people.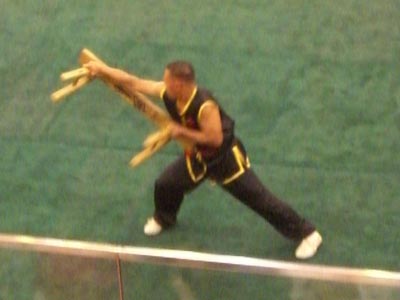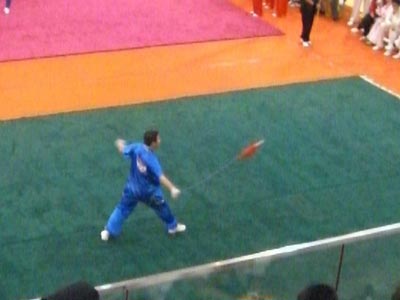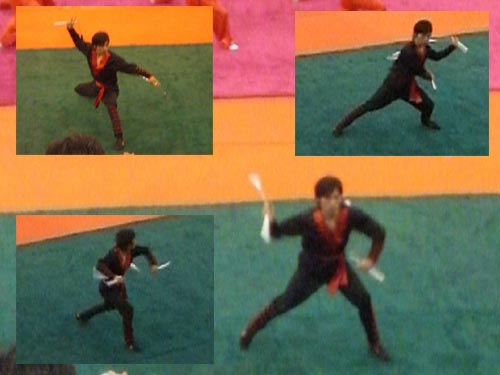 Of course my favorite division was the 'other weapons' division. Since this is an international event, and since its in HK, there were a lot of those traditionalist who were doing strange weapons... things like benches, obsurdly long staffs, tridents, meteor hammers, etc. In addition they had some good flexible weapons guys and for some reason one weird guy from the mainland who was doing double nunchucks... in America this guy wouldn't be allowed to compete in a wushu tournament... but for some reason they let him compete here. (i guess his nunchuck skills were pretty decent, but personally i'm not a big fan of nunchuck forms...)

Speaking of strange things: here's two brief clips i took with my digital camera of the competition.

Any guess what style of chinese martial arts this is?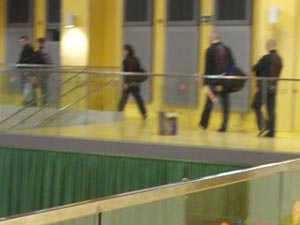 There were a good number of groups from overseas as well. In addition to japanese taiji guys, there were teams from Germany, The Ukraine and Russia... the guys in the above picture were from Russia and their jackets were very strange, they said 'Russia Kungfu Triad'... If any readers of this site have a chance to talk to any of these guys, maybe mention to them that naming yourself 'Mafia Kungfu' is not a very positive thing to do in English...
---
2/21/07 - Wow its been quite a long time since I've updated! Apologies! Today I've got a few things to update on: 1) First the big one - Since the last update i've moved from Japan to HK (at least closer to some wushu finally!)

2) Ironically the HK wushu team is training right nextdoor to my house. I'll try to share some photos of their training when i get a chance. The cool thing is my former BJ team pals He Jingde and Hei Zhihong are members of the team now and competed at the recent 2006 Asian Games held in Doha, Qatar. (click for link to forum thread with results). congrats to Hei Zhihong and Angie Tsang (you may remember her as the Young Wong Feihong in Iron Monkey) for getting Silvers in Men's Taiji Combined and Women's Nanquan Combined respectively.

3) As the internet has moved a long way since i first set up the 'Wushu Videos' page here, we now have a lot more bandwidth and a lot easier ways to view videos (things like Youtube!) Slowly but surely we're going to be migrating both those wushu video clips and the beijingwushuteam.com VCD trailers to youtube. I've created a video channel for the content here:
http://www.youtube.com/profile?user=beijingwushuteam
Be sure to check it out. If you want to automatically have access to the videos up there, be sure to subscribe (click here to subscribe).
I finally decided to jump on the bandwagon after I realized that several people had uploaded my 'Star Wars Wushu' video w/o my permission. If they're going to do it, I might as well do the 'official' version myself:

4) The 2007 UC Berkeley Chinese Martial Arts Championship will be held March 24th, 2007 (a bit early this year!) I am shocked to learn its the 15th one already (as someone who competed in 9 of the first 10, that makes me feel really really old! :-P
The official website is here. Don't miss it!
Thats it for now. I've got a few more things in the pipe. Don't worry the next update will come before 2008! ;-)
---
2/2/06 - Sorry for the lack of updates (again!). As some of you may know, I'm working overseas right now and I have to travel quite a bit, so its hard for me to update as regularly as I'd like!

But the world of wushu stops for no one! Be sure to check the message board for more current info... for example This thread has links and info on the results of December's World Wushu Games in Hanoi.

Also I've heard a lot of good feedback about the Beijing Wushu Team US tour in November. The talented Adam Tow has some really nice photos of the team members taken in San Francisco, check out his photos here:

Slide Show of Portraits at Baker Beach

&nbsp
Slide Show of the Performances in San Jose, CA

&nbsp
Also some Backstage Pictures.
I am currently working on a new set of videos of the latest China wushu competition, I hope to have it ready in a few months. I'll let everyone know when its ready.
---
9/9/05 - Wow, sorry for being AWOL from the news updates for so long! A few things I wanted to make sure everyone knew about:

1) Big news of the year! The Beijing Team is coming back to the USA for another round of performances! The website with the tour info is set up here:

Cool deal! details are still being finalized, but there is bio info for the athletes coming and some initial tour dates:

Washington D.C.:
November 4th, 5th.
For information contact United States Wushu Academy.
(703) 698-8182 and (301) 869-7519

San Francisco Bay Area:
Wed. November 16th, 7pm.
Zellerbach Auditorium
101 Zellerbach Hall #4800
Berkeley, CA 94720

Fri. November 18th, 8pm
Sun. November 20th, 7pm
Flint Center for the Performing Arts
21250 Stevens Creek Blvd.
Cupertino, CA 94014

Los Angeles:
Saturday, November 26th, 8pm.
Wilshire Ebell Theatre
4401 West 8th Street.
Los Angeles, CA 90005

I believe there will be several more shows added and possible some seminars, etc. Be sure to check that site early and often for more details as they become available.

2) US Team Trials were held last month, and not suprisingly there have been accusations of poor judging (or just unfair judging). For example two athletes recieved a score of 9.8, on a 10 point scale... which is very telling - if nothing else it says the judging here was poorly implemented - I dare the reader to look at the scores for the same athletes in the same events in the World Games in December and see how they compare. Just like last time, I guarantee you that they will be much closer to reality when the people running the competition aren't judging their own students.

But in a shocking improvement over the previous two trials - the WKF has ACTUALLY released partial score information. Amazing! Its incomplete (only the top 15 competitors, and more importantly missing the A/B/C breakdown required by IWuF Rules, but its infinitely better than what they have done in previous years (which was basically to ignore or harrass anyone who wanted to know). Its nice to see that they are not trying to coverup anymore, but still, they have a long way to go. (i'm sorry, but a 9.8 is still a joke - if your judging is fair and you're still giving a 9.8, then your judging rules are not being implemented properly). -- did i mention that the judging was bad? :-P

Here are the results:

Women's:
A - Team: 
1. Jessica Zhang 18.99 
2. Sarah Chang 18.69 
3. Ngan-Ha Ta 18.57 
4. Tiffany Reyes 18.31 
5. Joana Pei 18.28 

B - Team: 
6. Tenyia Lee 18.22 
7. Catherine Archer 18.22 
8. Felicia Zhang 18.11 
9. Diana Pei 17.74 
10. Ashley Chung 17.67 

C - Team: 
11. Tenicia Lee 17.41 
12. Victoria Huang 17.18 
13. Mei Chu 17.00 
14. Stephanie Lim 16.95 
15. Teresa Wong 16.64 

Mens:
A - Team : 
1. Chris Sexton 19.24 
2. Stephon Morton 19.01 
3. Jason Lui 18.54 
4. Zach Caruso 18.25 
5. Philip Dang 18.21 

B - Team: 
6. Peter Dang 18.19 
7. Colvin Wang 18.16 
8. Peter Wolf 18.02 
9. Chin-Yin Lee 17.95 
10. Collin Lee 17.79 

C - Team: 
11. Nick Spencer 17.69 
12. Jonathan Chung 17.59 
13. Brandon Sugiyama 17.58 
14. Dennis Shyu 17.57 
15. Chuck Hwong 17.41 

More scores are available here at the USWA's results list.
VIDEOS available on Jiayo.com, along with a lot of discussion of the vids here

3) USWU Nationals were held in August in Vegas as well. As usual, results were put up in record time(full results, the way it should be).
---
5/11/05 Sorry for the lack of updates. A few things to mention:

1) Upcoming tournaments - I've updated the upcoming events page with three new tournament dates. Actually two dates and 3 weekends. The problem is that the USAWKF has picked the same weekend to hold their nationals as the US Wushu Union. Doh. What an unfortunate decision ('unfortunate' is the nicest word I could think of). It reeks of petty politics and/or more incompetitence. Based on the USAWKF's track record, I wouldn't be surprised if its not both. Having two wushu events on the same weekend doesn't help anyone and it only serves to hurt wushu in America. The USAWKF had two years to plan its 05 team trials, yet they waited til May to announce that it was holding them the same weekend as another tournament. Doh. (and even at this late date they still don't have selection criterion ready?)

2) China competition - I was in China last week, I got the opportunity to talk a little my old friends Li Qiang and Zhao Lin, recently retired Beijing Wushu Team competitors. Last week and the week before were this year's qualifier competitions for men and women (respectively) in China. Li Qiang gave me a brief summary of which Beijing Team competitors have qualified for the 10th All-China Games, which will be held in Nanjing in October:

On the women's side, Liu Xiaolei (BS/Staff), Wang Xiaona (BS/Staff) and Qiu Huifang (Taiji quan/sword) have qualified. Complete results in chinese are here -- I'll try to translate them into English for the China results page when they put the men's online too, but I should note that old favorite Wang Xiaonan appears to have qualified for just sparring divisions and Liaoning sensation Mei Han has qualified for Changquan.

On the men's side, Li Qiang told me that the Beijing team members who made the cut to the finals were Shi Kun, Zhao Qingjian, Shao Changjun and Wu Di (hmm, don't know him, must be a new guy). -- this list is not absolute though, there may be a few guys she forgot to mention, but all these guys definitely qualified for at least one event. Since the competition was only like 1.5 weeks ago, they haven't put the results up online yet. I'll try to post the results in english when they do.

Also - Wushu.com.cn has some GREAT photos from the women's qualifiers held in April, click here to view them!

PS - Qiu Huifang is amazing!
---
2/10/05 - Two quick announcements:

1) KA on LENO - I've learned there'll be a demo by members of the cast of the new Cirque Du Soliel show KA (including former Beijing team members He Jingde and Jian Zengjiao) on the Tonight Show on Thursday 2/10/05, check it out, 11:30 pm in most places, on NBC.

There's a new Microsoft commercial featuring our good friend (and former Beijing Team member) Li Jing - click here to check it out.

Last but not least, I recently visited yet another Beijing Team great, Taiji Prince Kong Xiangdong, in Tokyo. I've asked him to share some of the press he's gotten in Japan, hopefully I can share that with everyone in the near future.
---
1/30/05 - wow, its been a long time since I updated the news page. Well the last few months have been quite busy for me, but I've tried to keep the events and directory page up to date, apologies for missing a few things though:

Like the SCWA tournament, which went quite well from what I heard, sorry I missed it, results are here, and discussion thread is here, and lots of videos of the competition here.

Also be sure to check the Events Page for the details on Collegiates (2/26 UC Davis, be there!) and the next Berkeley tournament (April 2nd!)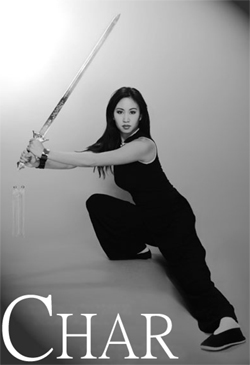 And last but not least, I want to take a second to help support a member of our wushu community, Miss Charlene Wang, of the UC San Diego wushu club who many of you may have met at Collegiates for the last few years. You may also have read the article about her in Kungfu Magazine, last year or otherwise heard that she was the 2003-2004 Miss Asian America title holder(click for picture). Pretty impressive (she does wushu for the talent portion of the contest too).
Charlene is going for the 2005 Miss Chinatown USA Pagaent next, which will be held February 11th in SF. I wanted to help get the word out, especially to wushu people in the Bay Area who might be able to come out and support her. (The event is run by the Chinese Chamber of Commerce, so you're actually supporting the local community in addition to helping one of our Wu Lin).
Details are:
Date and Time: February 11th, 2005, 7:30pm
Location: Palace of Fine Arts, San Francisco, CA
Contact Details: Chinese Chamber of Commerce, 415 982 3000
Here is a picture of the poster promoting the event. And a closer up shot of the contestants If I'm able to get a better copy, I'll let you guys know.

---
9/13/04 - Hey, two quick things: Li Jing will be giving a seminar on September 20th in Santa Clara, CA (San Jose area). Take a look at the pdf flyer Secondly, just an update on collegiates - no official decisions have been made, but hopefully things will be figured out in the next week or two.
---
8/23/04 - Quick update, I put up some pictures and links to the results from last weekend's US Wushu Union Nationals. It wasn't a really big event this year (but pretty good considering there were like 4 other large tournaments in neighboring states the same weekend), but as always, a well run and pretty fair tournament. I enjoyed going to see my east coast wushu buddies again.

Here's my pics:
http://www.beijingwushuteam.com/articles/USWUNationals2004/

As some of you may know, the So. Cal tournament set for September has been postponed for a change of venue, so aside from the Traditional Wushu Tournament in China in October, looks like the next big tourney will be Collegiates next spring. I'm in touch with several schools that are eager to host it, I'll post stuff up here when things are finalized. (AS OF TODAY, August 23rd, NOTHING is finalized!)
---
8/12/04 - A brief follow-up update... I stopped by to see my friends at the Chinese Martial Arts Institute, Sifu Clarrence Burris' school tonight. I was surprised to see my old friend Li Ying, former Beijing Team member who's been coaching there for the last 1.5 years is back from China. She's competing this weekend at the Capitol Classics here in DC. Also Qiu Dongxing (known as 'DX' to those pinyin impared) will be teaching some seminars at CMAI this coming week (click here for more info

Also, keeping up with the 'Beijing Team, where are they now' thread, Jiang Bangjun will be conducting seminars in Toronto next week. I wasn't able to find info online, but I believe they'll be at Sunny Tang's Wushu school. (so call them and find out if you want more info).
---
8/11/04 - Who's got USWU Nationals fever? I know I do! :P I'm back east preparing to drive up to Pittsburgh for the big event. Hope to see you guys there. Today I paid a visit to my friends at the US Wushu Academy's new location in Lakeforest mall in Gaithersburg, MD. Apparently they're expanding this school quite a bit, its going to have about 6000 sq feet when its done, pretty impressive (I trained w/ Coach Pei about 10 years ago when they were in a warehouse slighty larger than a wushu carpet). A nice feature is the fact that its inside of a pretty busy shopping center, so they get a good deal of curious onlookers (if nothing else from the restaurant opposite to them). This can only help bring wushu into the mainstream, something more schools should try to do. Its also nice to see that the DC area can support such a vibrant wushu market. (numerous coaches with multiple branches of schools, all doing well).

Its just too bad the wushu enthusiasm in this place and others like it around the country isn't being properly harnessed by our IWuF recognized governing 'organization'... (which is why I'm hoping the US Wushu Union's nationals in pittsburgh is a success). OK... enough soapboxing for now? Wait there's one more thing I want to mention:

WHEN AND WHERE ARE THE NEXT US TEAM TRIALS GOING TO BE? And whats the format going to be? There have been major changes in wushu competition rules since the last world games. What is YOUR country's federation doing to prepare you and select a good team? I know Canada has already begin discussions on a location (go Canada!) If the USAWKF had its act together, it would begin this discussion SOON and start by proposing something BESIDES the same old tired, unfair, inneffective selection method that they've picked the last two team trials. (oh, and here's an idea, let's not have it in the Baltimore-Washington area, it is supposed to be a national organization right?).

OK, enough on that for now. I'll keep you posted if anyone announces anything. In the meanwhile, I hope to see you all this weekend.
---
7/17/04 - Not a day after I post up my magnificant translation of wushu.com.cn's article about the Chinese Wushu Demo Group's European tour (see below), they put up an english version of their own. You can decide for yourself who's English is worse:

ALSO I have translated the results from last month's Men's qualifier competition. click here to go to the China Results Page (formerly known as the Beijing Team Competition Results page)... :P
---
7/15/04 - Hey guys, I'm waiting to hear official results from last weekend's Pan Am games... do you think the USAWKF will post results (ever?) [speak your mind on the issue in this poll!]. But I'd like to congratulate my classmates Joe Scarcella and Brandon Sugiyama for their strong showings, as well as all the teams who participated. Brandon has photos up on jiayo.com

OK, now onto the main reason for this update, the recent China team performances in Europe! First, to shed a little more light on the whole trip, here's a (bad) translation of an article i found in Chinese:
Chinese Wushu's 3 Hot Countries (7/4/04)

Chinese Wushu Association Secretary Huang Linghai, leading a group of twenty five people reached Athens Greece on 6/23, starting 12 days of European Wushu Performance activities.

The Chinese Wushu performance group has been invited by the Greek Wushu Association, the Italian Wushu Association, the Florence Martial Arts Institute and the Polish Wushu Federation to perform. In the aforementioned three countries the demo team will perform 10 spectacular shows. The most special is the Greece performance, who just won the semi-finals of the European Football cup 1 to 4 against France, but the wushu performance still filled the gymnasium. Members of the 2004 Olympic Games Organization Committee attended the performance, they gave their heartfelt wishes that Wushu can become an event at the 2008 Beijing Olympics.

In Italy, the staff at the Chinese Consulate who attended the performance gave the demo team high marks, they said in Italy, no other activities, even arts and culture performances don't have as many enthusiastic spectators and such a warm atmosphere. They said not only did the athletes reveal the enchantment of Chinese Wushu, but also the Chinese People's spirit.

On 7/2, the Chinese Wushu performance team concluded a five city tour through Poland and Greece, performing in Warsaw, from here on they have the last four performances and they are expected to be finished by 7/4.
As I mentioned last entry, Luciano has shared his pictures of one of the demos in Italy, and now there's also videos of that show. Also, Wushu.de has a video of their poland performance! I don't want to link to it directly in case they move it, so you'll have to hunt for it at - www.taolu.de.

Cool stuff! Especially considering how long its been since the last time there's been a good Beijing Team tour overseas (you may not believe it, but I still get a few email from people asking me when the next time the Beijing is coming to their country and whether they'll be doing a show in their small town or not...)

Also its cool to see more wushu multimedia making its way onto the web very quickly!
---
7/09/04 - A quick pre-Pan Ams news update: Looks like the competition will have a pretty good turnout. According to reports, there are 15 registered for mens changquan AND mens nanquan! (4 US team members will be in men's nanquan?). Men's taiji has 5 and women's has 6. Not bad! Its nice to see that the taiji events are healthy, especially considering the USAWKF's (and several other countries' federations's) previous lack of commitment to taiji on their national teams! (by originally requiring summed scoring of 3 events to tryout for no apparent reason, until after the world games rules were changed to only allow two events anyway)

But still a bit uneven, men's staff and women's spear apparently have only 3 competitors each. Brazil apparently has upwards of twenty athletes there, so props to them for making the trip up in force.

Other notes to mention: Apparently no Sanshou leitai. :( and very poor reviews of the US Team jackets (a safety pinned USAWKF patch? well still, its a jacket, thats good for the USAWKF!) I'll update more news tomorrow as it comes in.
---
7/04/04 - Happy 4th of July everyone! Just a quick update. we've found a new host for the ever popular Wushu Debate Zone. Click here to check it out! Our former hosts, gamers.com have decided to change their business model and hosting discussion forums isn't part of it. Luckily our friends at Rottentomatoes.com have helped us make a special wushu board in their discussion forum. I can't carry over the gamers.com logins, so you'll have to create a new RT login - click here to create a new login.

I apologize for the incovenience of having the board down the past week. Hopefully we can get things back up to speed quickly!

Also quickly, jiayo.com has pics up from the aforementioned China team demo in Italy. click here to see the pics. Spectacular stuff!

---
Click here to view more past installments of Raffi's Wushu News.
---
Send feedback to raffi at beijingwushuteam.com