CLICK HERE TO GO TO THE WUSHU PAGE

Wushu Notes
---
This page is comprised of current events and goingson in the world of wushu (at least my world which I think is pretty expansive, as far as wushu in America goes). Sections are seperated by the dates they were entered. If you are new to this page, it might be best to start at the bottom and read up section by section. If you are a regular, go straight to the top of the list for the latest info!
---
---
6/30/04 - quick news update - gamers.com, the host of the world famous 'wushu debate zone' has recently changed their server colocators and during this transition their boards have gone down (again), i've been in touch with them about when things will get back up...

i'm currently looking into alternate hosts as well, i'm not a big fan of phpBB, but we might have to transition to that if gamers doesn't continue to be a reliable choice (doh!) more news as it becomes available.
---
6/19/04 - Lots of news going on, but i've been a little bit too busy lately to keep up with everything (which is why it pays to read the Message Board0.

A few things I should highlight -

1) Matt has put up info about the IWuFs proposed rule changes, mentioned previously here in the March 20th entry below. Check out Nanquan.com for all the info.

2) Last weekend was the Men's Qualifier competition in China. This is the competition that decides who gets to go to the Nationals in September (to compete for the individual championship titles). All I could find was one article about the men's taiji results (Yi Peng got gold). I'll be adding it up to the China competition news and results page

3) Perhaps the biggest news is that a team from China will go to the 2004 Athens Olympics to do a demo. They're also slated to do some demos and possibly workshops in Italy from what Luciano has been informing us.

here's the flyers for the demos in Modena, Italy they're going to be doing:

And Luciano has also gotten us some more info abou the people and what they're performing:
Line-up:

Vice president: Zhang Wangnan
Team leader: Jin Xiaobin
Coach 1: Cui Yahui*
Coach 2: Li Qiang*
Translator: Zeng Fang

Athletes:

1. Zhao Qingjian*
2. Zhang Jidong*
3. Shi Kun*
4. Shao Changjun*
5. Lin Ying**
6. Peng Lili
7. Lin Fan**
8. Chen Shuai**
9. Zheng Leishi
10. Huang Yinqi**
11. Ouyang Shuting
12. Wu Wenmei
13. Qiu Huifang*
14. Liu Xiaolei*
15. Wang Xiaolei
16. Fu Yang*
17. Yang Xiaolon
18. Zhan Changcheng
19. Wu Zeren***

* = Beijing Team (current or former)
** = Fujian Team
*** = Tianjin Team

There's a few errors in there, so i'm not sure about all these names. (like Wang Xiaolei could be Wang Xiaona or Wang Xiaonan?)

Performance List (sorry, Chinese and Italian only, but you can probably figure it out):

1. Jibendongzuo, Esercizi fondamentali
2. Changquan, Pugilato a lungo raggio
3. Daoshu, Arte della sciabola
4. Gunshu, Arte del bastone
5. Jianshu, Arte della spada
6. Qiangshu, Arte della lancia
7. Nanquan, Pugilato del sud
8. Nangun, Bastone del sud
9. Nandao, Sciabola del sud
10. Taijiquan, Pugilato supremo
11. Taijijian, Spada del "taijiE
12. Yinzhaoquan, Pugilato dell'aquila
13. Tanglangquan, Pugilato della mantide
14. Fanziquan, Pugilato degli opposti
15. Ditangquan, Pugilato delle cadute
16. Dishuquan, Pugilato a terra
17. Baguazhang, Palmo degli otto trigrammi
18. Bajiquan, Pugilato delle otto direzioni
19. Zuijian, Spada dell'ubriaco
20. Changsuijian, Spada fiocco lungo
21. Sanjiegun, Bastone a tre sezioni
22. Shuangdao, Doppie sciabole
23. Shuangbian, Doppie catene a nove sezioni
24. Shuangjian, Doppie spade
25. Shuanggou, Doppie spade uncinate
26. Sanren duilian, Combattimento prestabilito a tre
27. Pudao dui qiang, Combattimento prestabilito alabarda contro lancia
28. Jian dui jian, Combattimento prestabilito spada contro spada
29. Dao dui shuangqiang, Combattimento prestabilito sciabola contro due lance
30. Jitidao, Sciabola in gruppo
31. Jitijian, Spada in gruppo
32. Jitibian, Catena a nove sezioni 

(in my case the chinese is easier to figure out than the italian... but in case you didn't get it, 26-30 are sparring sets and the last 3 are group sets (Group BS, Group SS and Group Whip).

Speaking of which - 'WonJohnSoup' who's one of the many Americans visiting ShiChaHai this summer gave us this report on those group sets:
Saw a practice run last night. Seems to be atleast 3 groupsets they're doing. The women are doing a short weapons group set with some solos and sparring, and the men are doing a double short weapons group set with some solos. Then one more is going to be some gigantic group with them all doing chainwhip. The first two are set to music. They look interesting, especially the choreography with the women's set.
I'll try to post up more info about performances in Italy or Greece or other parts of Europe when it comes in. (as I'm learning we have more and more European visitors here!)

4) NBC's got a new show called 'Next Action Star', an American Idol-like reality show where they're trying to find, yes, the Next Action Star!. I only caught the first episode, but Eric Chen of the National Wushu Training Center was featured prominently in the 2nd episode and apparently will be featured as a martial arts coach for the contestants throughout the show. Click here for the show's website. As of this writing, the 2nd picture that pops up (this one) is none other than Eric Chen and Matt Emory! - Here's the pertinent part of the episode recap. Doh, I wish i had TiVo, I'll have to wait for them to rerun this episode.

OK, thats enough for now, don't forget the Pan Ams are a month away and the USWU Nationals are August 13th-15th. Be there!
---
5/30/04 - A little bit late, but in case you missed it, last week I put up another great article submitted by Da Wei:

Living And Training In China! Should You Do It? What's it like? How do you do it?

Da Wei has been living in China training for the past year or so and was gracious enough to share his experience with those westerners who are interested in a drastic change in venue for the sake of wushu. Check it out.

Also I want to let everyone know that a new set of 'Archives Series' VCDs are available, these from the 1985 China Nationals, held in Ningxia Province. Old School wushu is really a treasure and this 4 disc set features a LOT of great champions in their prime and a LOT of wushu styles you just don't see anymore. Click here to jump directly to the information about this set.

Lastly - The PanAm Games are coming up quick (1.5 months). And the US Wushu Union's Nationals are in August (be there!) Read more about the upcoming events on the Events Page. Also although I haven't been contacted with any information about it, apparently Wu Bin's summer camp is returning this year. Here's some information:

From the looks of it, they'll have three locations (Arizona, Colorado and Kansas City). Dean_R has posted some more detailed information that all advanced wushu students should check out before signing up - Click here to check it out.
---
5/4/04 - From the 'better late than never' department: here's Y and DJ's article and pics from March's Arnold Classic. Thanks again to them for taking the time to share it. I strongly encourage anyone else who feels like being immortalized on the web to let me know if you want to do an article or submit pictures.

Secondly, last week I had the chance to see my old buddy, former Beijing Wushu Team member and All-Around Champion of China, Jian Zengiiao in Las Vegas. He and He Jingde (see 12/26/03 entry) are part of a group of wushu athletes preparing for a new Cirque Du Soliel show that will open in Las Vegas sometime this summer (before I heard July, now they're saying August). I'll be sure to share more details when they're made available (right now they don't even have a name for the show finalized!)

Anyway, I want to give everyone an early heads up, and hope you all get a chance to check out the show once it opens.


Not only was did I get to see Jian Zengjiao, but Li Jing also came to town to see him.
---
4/17/04 - Last week was the 12th Annual UC Berkeley Chinese Martial Arts Tournament. I've got pictures and links to results and more info up here:

http://www.beijingwushuteam.com/articles/berkeley2004/

The tournament was pretty good, only big complaint was that it went a bit long (til midnight!), but that mostly had to do with the fact that there were 596 competitors, participating in 1648 events in a ONE day event. (i should note the strength in the adult contemporary divisions) look at the number of athletes competing in advanced male changquan!)

Let the record show that the tournament organizers had the FULL results up within 3 days. Its been 9 months since the USAWKF's last event, and they have yet to post a single event's results from the entire tournament - shameful isn't it? (I mean the US Team trials aside, isn't there supposed to be national ranking from the "Nationals" they held concurrently?

Not only does this event have results, but they also have the score breakdown by judge, one of the benefits of using computerized score collection and calculation. This data also allows for useful analysis after the tournament to guage the quality of the judging. George has done some statistical analysis broken down by judge and by event. Pretty interesting stuff. Its this kind of transparency and scientific analysis that can be used as a (pardon my french) bullsh!t detector - showing judges who either don't know what they're doing, or are just plain cheating by over scoring or under scoring certain athletes. (Statistics can be skewed to prove any viewpoint, so they must be taken with a grain of salt and studied closely, but still, any statistics are better than what the USAWKF gives you, which is JACK!)

I hate to feel like i'm playing up the tournament TOO much, there were many speed bumps throughout the day which need to be addressed, but luckily, unlike some people (say... the USAWKF), the Cal Wushu organizers actually WELCOME constructive criticism, suggestions and questions related to their event, they don't try to ignore them (I still get email from people being ignored by the USAWKF about their 2003 Nationals, believe it or not!)

Not only does Cal Wushu welcome the criticism, but they are trying to address it immediately and help prepare solutions for next year's tournament. For example, here's a thread on the debate zone about the topic:

http://boards.gamers.com/messages/message_view.asp?name=raffi&id=zxolq

And a response from some of the organizers:

http://boards.gamers.com/messages/message_view.asp?name=raffi&id=zxolh

One major issue people raised was judging. I predict this will continue to be an issue in the near future as the IWuF is making pretty radical changes in the rules for wushu competition (see the 3/20/04 entry below!), there will definitely be growing pains as these changes make their way down to the national and regional level. One thing the Berkeley organizers attempted to do to address the judging issue was to hold a US Wushu Union judging seminar before the tournament. This certainly helped alot, but it'll take more than one seminar to fix all the problems, hopefully this type of feature will become common at all wushu tournaments in the future. (and since the USAWKF hasn't done a great job doing this, despite the fact that they are actually required to do it... let's hope the USWU keeps up the good work). Nothing's perfect, but competitence and openness are a lot better then crappy overpriced tournaments that never tell you how you even did in your unfairly judged events, aren't they?

One last thing, since I've decided to spend this entry mostly talking about what a poor job the member federations are doing (its not just the USA, many other countries have the same level of incompetence and dishonesty)... Last week the Straits Times, a Singaporean Newspaper had this article (which you need to subscribe to read now, unfortunately) about the situation their Wushu Federation is currently in. They are at risk of losing government recognition (and hence funding) for their federation due to a failure to meet the government's "10 principles of good governence." Something you could almost call a 'Bill of Rights' for any athlete in any sport. The principles are:




The 10 principles of good governance:

1 Well-defined mission and programmes

2 Responsible and prudent governing councils

3 Effective and accountable leadership

4 Democratic and fair elections and appointments

5 Proper management of conflict of interest

6 Enlightened staff and volunteer management

7 Sound financial and legal management

8 Transparent actions

9 Ethical fund raising and use of funds

10 Responsive public relations and corporate communications 

Now I want everyone out there in every country around the world to think about those ten principles. Completely reasonable, right? Something ANY organization, no matter what it does should have, right? Now think about wushu... does YOUR country's wushu federation meet them all? If they don't, they certainly should. I doubt anyone except for Sean Marshall and some other people with their heads up their a$$es think that the USA has all 10.
OK, enough ranting for now, a good wushu tournament inspires but it also makes the rampant disorganization, cronyism, unfairness and general incompetetence in wushu all the more unbearable...
---
3/20/04 - Hey everyone. I wanted to quickly forward some interesting new info about the upcoming scoring changes for the World Wushu Games:
Starting from 2005, International wushu competition will be based on optional routines, instead of the existing compulsory routines.

The max score is still 10 points, comprising of 3 portions:
A. 5 points - specification of movement.
B. 3 points - power, harmony, rhythm, & composition.
C. 2 points - degree of difficulties.
Note that existing competition only has portion A and B, consisting on 6 and 4 points respectively.

Scoring will be performed by 9 judges and 1 head judge.
3 judges will score on A (specification of movement)
2 judges will score of half of B.
1 judge and head judge will score on the other half of B.
3 judges will score on C (degree of difficulties).

The degree of difficulties is divided into:
1.4 point on degree of difficulty of the movement.
0.6 point on connection - able to secure the move after a difficult movement.

Difficult movements are classified into 3 groups:
(A) level of difficulties equivalent to those on existing compulsory forms.
Eg. Tornado kick 360 degree.
(B) Next level of difficulties - higher score value.
Eg. Tornado kick 540 degree.
(C) Highest level of difficulties - highest score value.
Eg. Tornado kick 720 degree.

The difficult movements and their score values were finalized in mid february this year. For the international wushu competition in 2005, only group (A) and (B) score values will be used. Competitors can still enter with group (C) moves, but they will be treated as group (B) moves.
Each competitior have to report the difficult movements to be used in their routine before the competition. The starting score before deduction will be calculated.

For example, if the routine only has one difficult movement with a score value of 0.8 point, then the start score before deduction will be 8.8. There will be a technical seminar held from July 5-9 just before the Pan-Am Wushu Champship in Virginia for Coaches and athletes in north and south America on this new competition format. It will be head by Wang Ling Hai, chair of the IWUF technical committee. For detail on this seminar, call 703-560-1900, or e-mail: o_mei@yahoo.com
Interesting stuff. Very similar to the changes instituted in China in 2002, wouldn't you say?. This is what the IWuF believes the sport needs to do to prepare for the 2008 Olympics (IF wushu gets accepted, lets all remember that this hasn't happened yet!)
Last but not least, I hope to see you all at the April 10th Berkeley Chinese Martial Arts Championship
---
3/4/04 - First I wanted to share a letter from Robin Shou, who is promoting a new movie he has written and directed, :

Robin Shou's New Years Message - (500k)

Also I got some email from Tai Seng, who is distributing the movie:

---

Opens Friday March 5, 2004!
Catch ROBIN SHOU and the stars of RED TROUSERS
in person at the premiere screenings!

Official film site: http://www.redtrousers.com


Click to view:
TEASER Trailer in QuickTime
FULL Trailer in QuickTime

TEASER Trailer in Window Media
FULL Trailer in Window Media


>From the star of MORTAL KOMBAT,

ROBIN SHOU presents

RED TROUSERS: THE LIFE OF THE HONG KONG STUNTMEN
Winner of ?Outstanding Achievement in Filmmaking? Award ? Newport Beach
Film Festival, April 2003

"A Rare Peek Inside The Risky World of Hong Kong Stuntmen..." ?
Tim Ryan, HONOLULU STAR-BULLETIN

"Slamming, Banging and Crashing...Astounding...A Fascinating Background to
the Art of (Dangerous) Action..." - Konrad Gar-Yeu Ng, HAWAII
INTERNATIONAL FILM FESTIVAL

"Spectacular Life Threatening Stunts..." - Jax, LATINO REVIEW

In this dazzling combination of film and documentary hosted by and
starring Robin Shou, star of Mortal Kombat, the death-defying feats
performed by the world?s greatest stuntmen are profiled through interviews
and clips that showcase their work.  Intercutting with the documentary is
the short film Lost Time, a futuristic martial arts fantasy adventure in
the style of Alex Proya?s Dark City, where one can appreciate the
stuntmen?s extraordinary achievement in their final cinematic form.

Catch ROBIN SHOU and the stars of RED TROUSERS in person at the premiere
screenings in Los Angeles and San Francisco!

March 5th-Nuart Theater, 11272 Santa Monica Blvd., West Los Angeles
March 5th-Edwards University 6, 4245 Campus Dr., Irvine
March 6th-Opera Plaza Cinemas, 601 Van Ness Street, San Francisco
March 6th-Act I, II, 2128 Center Street, Berkeley
March 7th-Varsity Theater, 4329 University Way N.E., Seattle


For more information and showtimes at these and other theaters around
the U.S., please visit http://www.redtrousers.com.

*Please email this to your relatives, friends, colleagues and neighbors to
promote our film.  We hope this beautifully-crafted feature film will
leave a powerful impression with our viewers.  With your participation,
lets make RED TROUSERS an indie smash Hollywood will envy!


---
I encourage everyone to check it out, support independent films, especially when they feature wushu people! Robin has arranged for local wushu schools to demo at the openning events as well. My sources tell me he's asked Cal Wushu and SCWA performing at the SF and LA screenings (respectively).

Also its been almost two weeks since collegiates. Stanford had some problems with their score records, but I've been told they'll be putting them online shortly. I'll keep bugging them if we don't see them soon. Its been over 8 months since the 2003 US Team Trials and they scores still have not been released to the public or to competitors. Pathetic isn't it?

In the meanwhile, check the 2004 Collegiates page - I've added links to many other pictures put up online since the event.
---
2/22/04 - If its February it must be time for collegiates! Yesterday Stanford hosted the 8th Annual Collegiates. 145+ competitors from over a dozen schools. Cal Wushu won a very close team competition with Stanford getting a very close 2nd (they were down to 1 point that was decided by the group set, that they actually tied on, with Cal narrowly winning the tie-breaker).

University of Oregon's Phil Dang repeated his All-around championship and travelling all the way from Brazil, Paula Amidani took the Women's All-around.

I've taken some of my photos online (not at all comprehensive coverage though), I'll update this page with links to results and photos as they become available:

http://www.beijingwushuteam.com/collegiates/2004/
---
12/26/03 - Happy Holidays everyone. I just got off the phone with my old friend, former Beijing team member He Jingde, who is part of the wushu group currently practicing with Cirque Du Soliel in Canada right now (see the 10/30 entry for the original announcement). He can't divuldge any details about the performance, but he tells me they're practicing 8 hours a day. They'll be in Quebec for another 3 months and the show will open in Vegas sometime in July. I'll share information about that as soon as I get it. If you want to get in touch w/ HJD, you can email him at hejingde0201@msn.com.

Here's a picture of HJD enjoying the Canadian winter: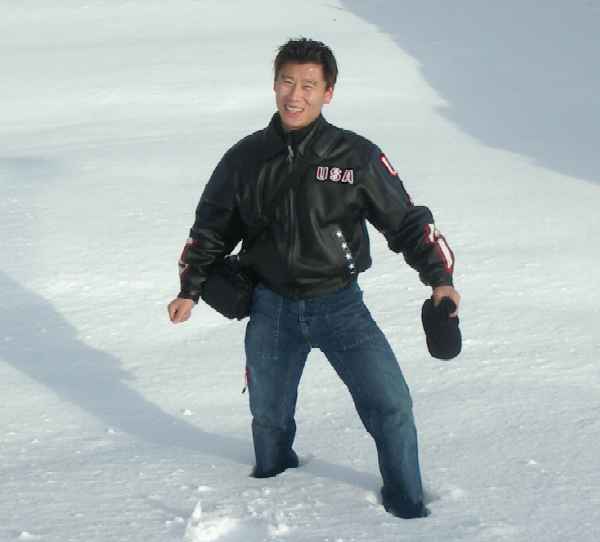 Also Clarence Burris of the Chinese Martial Arts Institute in Fairfax, VA is hosting a tournament on April 9-11 in the Washington DC area. Click here for more info. Unfortunately its on the same weekend as the Annual UC Berkeley Chinese Martial Arts Championship. Both would be a good event to check out! Also don't forget that Collegiates is coming up in less than two months! I hear that some more East Coast schools will be there in force! If you're in college and do wushu, you should be here for this event!
---
12/12/03 - Quick updates:

1) Collegiates - Rules and reg forms are online. Be sure to register in time! Its the place to be!

2) Southeast Asian Games - Lisa, our number one source for Vietnamese Wushu info has come through once again:

Sisters Share Wushu Golds - (VNS) - features a nice picture of Nguyen My Duc.
Official Results of SEA Games Taolu and Sanshou competition
Nguyen My Duc medal ceremony picture
Nguyen Ngoc Oanh - medal ceremony picture

3) Sanda Wang - on 11/28 I had the opportunity to watch a Sanda Wang competition in China. It was quite well produced - Click Here for some pictures from the event. A week later there was another Sanda Wang event billed as 'China Vs. The World' or something. I can't find any coverage online but apparently 'The World' got beat 4-0. :(

4) Wushucentral.com has videos from the World Games online. Check it out here. They're not all online yet but it hopefully will be soon. Its good to see where World Wushu's levels are, and the US's place in it. (ie a reality check from the farce that was US Team trials!).

5) Speaking of which, I've gotten some email from wushu practicioners complaining about a lack of communication with the USAWKF. (related to Team Trials, information about competitions, etc). Are you surprised? They spend time writing news patting themselves on the back but don't waste a second on things that actual people want. (and don't expect them to point out that this year's results are some of the worst US Taolu results in the history of the World Wushu Games).

If you've also had problems dealing with the USAWKF, please let me know.
---
12/05/03 - Sorry for no updates lately, I've been running all over the place lately. Last week I went to China to watch a Sanda Wang professional sanda event that was televised across China. It was pretty great, I'll try to write something up and post some pics up when I get a chance.

I wanted to tell everyone that I've updated the Events Page with some important events over the next few months - first and foremost I want to help publicize two seminars being given by Beijing Team coach Cui Yahui. Click here to view the flyer with all the details.

Also dates for the 2004 Collegiates (hosted by Stanford) and the 2004 UCB Tournament (hosted by Cal Wushu of course), are set. all the events listings can be found here. These two events are likely to be two of the best contemporary wushu events of the year, if you're looking for some serious competition, I strongly recommend you hit up one or both of them.
---
11/14/03 - For first hand accounts from the World Games from our favorite US Team member - check out DY's RT journal or specifically:

Thanks to DY for sharing his experience with us!
---
11/9/03 - Worlds is over, but there's still a few more articles on it:

Article from Xinmin News (in Chinese)

Article from Jinhua news (in Chinese)

Article from CRI Online (in Chinese) - has a picture of Vietnam team member

The articles all talk about the final medal count. China apparently won 17 gold medals (7 in sanshou, 10 in taolu?), the Vietnam team came in second in the overall medal count (the rest include Russia, HK, Myanmar, Korea, Philipines, Macao, Japan, Egypt, USA, Iran). (according to Lisa!)

I'll let everyone know when pictures show up online from DY and Dary.
---
11/7/03 - The taolu competition is over, all teh results are in!

Check out the results online, courtesy of the hosts in Macau -
In chinese - http://www.sport.gov.mo/2001/cn/Wuhsu/result.php
As of 1am PDT, looks like the english page isn't updated yet - http://www.sport.gov.mo/2001/en/Wuhsu/result.php

A big congrats to Ava of the Canadian team! she scored a 3rd place in Women's Staff! Doug Chin also got a 5th in Men's Spear. Also big props to Han Jing, a good friend formerly of the Beijing Wushu Team, now multigold medalist for the Macau team! (first in Women's straightsword and Women's Sparring Sets)

I should also mention that Elaina Maxwell of the US Women's Sanshou team got a gold medal! (US Team's only medal this time!)

There's a brief update to DY's RT blog (actually written by Dary) - Click here to check it out. DY and Dary have a digital camera w/ them and promise to put lots and lots of photos up once they are able (by this weekend hopefully?)

ps - thanks to AVA for the phone call! :P
---
11/5/03 - Tons of results coming in from the first two days of competition! The great thing is the hosting organization, the Macau Sports Institute is putting the results online while the competition is still going on! (And here it is 4 months after the US team trials and they are refusing to put results online).

CLICK HERE TO VIEW THE RESULTS!

Check it out! Check out how well DY is doing! DY got a 9.08 in broadsword (6th place!) and a 9.10 in Changquan. Also our Canadian friend Chris Chin for getting a 9.08 in Men's staff. (recall that the rules only allow each athlete to do one handset and one weapon).

Also there are some pictures online as well -

Picture of US team's Zhang sisters - Jessica Zhang got 5th place in Straightsword.

Some Sanshou Results that Brad posted.

Not to jump the gun here, but notice how much different the scores are between this event and the US Team trials - Purely for illustrative purposes, let me point out how Stephon Morton and Justin Ma were getting 9.3's and 9.4's at the team trials, here in a competition not run by the Goh/LXL cabal, they're getting 8.8's. Clearly we can now see how fatally flawed (and hence unfair) the US Team trials really were. The lynch-pin of the trials is fair and consistant scoring across the divisions, but as we can now see, there was tremendous inflation for certain people in certain divisions. [let me temper this slightly, by saying it'd be best to see the actual performances at this event to see how the 8.80 scores were earned. Perhaps these athletes all made 0.6-0.7 deductions in all their divisions?].

I'll keep you guys updated if any more pictures or articles are found.
---
11/4/03 - Lots of news from the World Games! Here's a roundup: Article from Xinhua - Announces that the 2005 World Games will be in Moscow, and there will be major changes to the format of the World Games (moving towards China's current rule format) - this is BIG news, I have no idea how the IWuF will get this implemented by 2005, using their track record on distributing the new compulsories in 1999.

Article from China Daily - Announcing Yu Zaiqing's election to IWuF chairmanship.

Article and Pictures from People's Daily Sports (in Chinese) - Pictures and an article from the opening ceremonies. It mentions there are 57 teams and apparently cost about $3.5 million to put on.

Article from Macaodaily (in Chinese) - Chinese version of article about new rule changes and 2005 World Games location

Article from Macaodaily (in Chinese) - Article about new board members for IWuF. Unfortunately it looks like Anthony Goh is amongst them.

Article from Macaodaily (in Chinese) - I think its just about internal Macau Wushu stuff

&nbsp

Last but not least! - our friend DY has submitted a firsthand update on his experience at the World Games on the Rotten-Tomatoes journal - CLICK HERE TO CHECK IT OUT! Lots of good info in there.

I'll keep you guys updated as I find more news and results over the next day or two.
---
10/30/03 - Hey guys, the World Games start on monday, let's all wish the athletes good luck, especially DY! (being the only athlete on the US team who's not a student of the coach, who also happened to host the trials... am I starting to sound like a broken record? I just wanted to make sure everyone knows the real deal). But let's also wish luck to our friends on the Canadian team too!

If DY gets a chance he (or more likely Dary) will be posting updates on the web, i'll link to them as they come in (either here or on the message board, or both).

Also, starting next week, several wushu people are going to be travelling to Canada to start rehersals for a new Cirque du Soleil's new wushu themed show. According to my sources, there are six wushu people - former Beijing Wushu Team members He Jingde and Jian Zengjiao, Hong Kong Wushu Team member Luo Ngaching, and US Wushu athletes Rory Bratter and Jennifer and Cheri Haight. They'll be rehearsing til April 04. The show will be based in Las Vegas and starting sometime in the spring. I'll post more details when they come out.
---
10/12/03 - The big news I want to announce is the success of our 2003 US Team Member fundraiser for DY and Dary Sao! With the help of 12 donors and 2 corporate sponsoring organizations, we surpassed our goal by raising $2357! CLICK HERE TO SEE THE DONORS. Yet more proof that our community does more than just whine about the crappy job our national federation has been doing for the past decade or so.

A few "abusers of the liberty of the internet" have raised enough money to completely pay for two athletes to go to the World Games, while our mighty federation, as so far only secured a $300 donation per athlete from one company, the ENTIRELY generious TC Media (I'm not sure if that is money from their 10th anniversary fundraiser last year, but its nice to know they sent the money directly to the athletes instead of trusting the WKF to give it to anyone). Still, as great as that donation is, $300 is not enough! The WKF has had two years to come up with some funds for this world games and thats the best it can come up with? (They did a fundraiser for their fake US Team to demo in Salt Lake City, but not for the real US Team to go to the World games? WTF!?!)

Anyway, the Worlds are three weeks away, I wish everyone luck. I know DY will try his best to represent all the quality wushu athletes who got the shaft (yet again) at the Goh/LXL team trials this year. (Let me remind everyone that there is ONE US Team athlete going to the games this year who is NOT a Lu Xiaolin student). I especially want to wish luck to the athletes that got incredibly inflated scores at the Trials. These athletes are under a lot of pressure to perform well, as they have to get 9.3's and 9.4's if they want to try and legitimize the flawed competition that got them on the Team in July. (OK, OK, I'm being a jerk, but its true!)

On a brighter note, in case you missed the link in the message board, here is a link to the Adidas Women's World Cup commercial featuring members of the Women's US Soccer Team and the Chinese Soccer Team (click on "Behind the Scenes" and the actual commercial is about 2 minutes in):

http://www.prnewswire.com/mnr/adidas/11260/

A bit of a Shaolin Soccer rip off, but pretty cool. It was filmed last spring in Vancouver and features several of our beijingwushuteam.com friends - Li Jing, Zhuang Hui, Ava Choy and Katrina Leung.
---
9/22/03 - In case you haven't heard, we're doing another fundraiser! Its been only 4 days, but so far the response has been TREMENDOUS! There's still a long way to go though. Click on the button for more information:

&nbsp

I can't help but be really impressed with the outpouring of support for DY and Dary. It just demonstrates the goodwill, generosity and positive energy which so often goes untapped in our community.
More updates on the progress of the fundraiser in the coming days.
---
8/15/03 - Seminar Annoucement - In addition to the 'Wu Bin Summer Camps' being organized around the country this summer, several of the coaches will be giving a seminar in the SF Bay Area later this month -

WUSHU TRAINING INTENSIVE
w/ Coach Wu Bin and Jiang Bangjun, Li Qiang

Date: August 25 and 26, 2003
Time: 7 - 9:30pm
Sign in: 6:30pm
Location: Finnish Hall, 1970 Chestnut Avenue, Berkeley, CA

Training Schedule

Monday
Coach Jiang Bangjun: Compulsory Spear (complete form)
Straightsword (correction and fine tuning)

Coach Li Qiang: Southern Broadsword

Tuesday
Coach Jiang Bangjun: Eagle Claw
Coach Li Qiang: Double Broadsword

Price:
Wushu West Students - 1 day $155, both days $250
Non Wushu West Students - 1 day $180, both days $280

Tuition due by August 21st, 2003

For more info, please call (415-990-1957) or check out website
http://www.wushuwest.com

Please, no video cameras allowed.

---
8/11/03 - Sorry for the late update. I could lie and say I was just waiting for th dust to settle around team trials, but also I have been pretty busy lately! As you probably know, three weeks ago the 2003 Team Trials were held in the Washington DC area. Unfortunately (you knew there was an unfortunately coming, didn't you?) it doesn't seem like a lot has changed for Wushu in America in the last 2 years...

Before I go into much detail, here are the results:

A Team:
Men 
1. Jason Lui
2. Stephon Morton
3. Justin Ma
4. D.Y. Sao 

Women
1. Cheri Haight
2. Jessica Zhang
3. Deborah Yang
4. Felicia Zhang 

B Team:
Men 
1. Arthur Chen
2. Ching-Yin Lee
3. Alex Huyng
4. Joe Scarcella 

Women
1. Sarah Chang
2. Jennifer Haight
3. Dary Sao
4. Catherine Archer 

C Team
Men
1. Brandon Sugiyama
2. Rizgi Rachmat
3. Nadir Yahya
4. Phillip Dang 

Women
1. Lui Guojing
2. Diana Pei
3. Tiffany Reyes
4. Janice Yeung 

Six of the Eight A Team members yet again come from one school. Just like the 2001 Baltimore trials. Mind you that this was the school that was the organizer of the tournament where the trials were held. Homefield advantage? Potential influence on the judges perhaps? (either explicitly or implicitly?) Many people say that these athletes were truly top in their divisions and that there was no favoritism at play, but those of us who have witnessed numerous past cases of less then fair play by the parties involved can't help but be suspicious when some athletes are getting scores of 9.4s and higher.
Thankfully in the modern age of the internet, you can judge for yourself! (because some would have you believe I am an evil man who will stop at nothing from slandering the wonderful Presidente and his faithful Lieutenants...) Wushucentral.com has a good portion of the competitors and some of their scores up at this address:
http://www.wushucentral.com/videos/v.php/usa/2003_teamtrials
I encourage you to take a look for yourself. If I could make a particular example. Look at the scores for Men's Changquan, compare the top scoring athletes with some of the other ones who scored 0.2-0.5 lower. Better yet, compare them to eachother. I don't see a lot of parity between them, the judges scores imply that they are equivalent. What do you think?
Just to put things in context, the World Games hypothetically uses the same scoring rules as this event, yet you will find very few athletes (who aren't professional athletes from China) getting scores that high. Therefore one could argue that the scoring, in at least a few cases is inappropriately high for the skill levels demonstrated [BUT if the US Team wins 4 or 5 gold medals at this years world games, I will take back everything I ever said about inflated scores!]
But to look at the bigger picture, a lot of athletes have felt YET again that the WKF has failed them, before, during and after the trails. Two years of hard work and believe that 'if I just train hard, ignore the politics, I can achieve my goals' have ended in another steaming pile of bitterness for a lot of athletes who felt like they got the shaft yet again. How much longer do we have to put up with this?
I need to give a big congratulations to all that went and completed. Especially those who's achievements are without question.
And just to give everyone a heads up, I am trying to lend a hand on a fundraiser for wushu phenoms DY and Dary Sao of the Southern California Wushu Academy. I know a lot of wushu supporters around the country will be more then willing to help them out. I hope to have this info up in the next two weeks. (cause if I dont you will have to wait til I get home...)
On a much brighter note, there have been a lot of good comments made about the Wu Bin Summer Camps (I don't think thats the official name, but thats what people are calling them) going on around the country, I will try to post up some more info on that when I get a chance. Also this weekend was the US Wushu Union's nationals in Pittsburgh. How much you want to bet they put their results up on the web before the WKF does (giving them a three week head start, mind you)
---
6/17/03 - Big news! A lot of luck and a lot of pressure has turned things right! The WKF has announced Revised Selection criterion! Yes, the two score method is in, the three score method, completely inappropriate for the worlds this year, unfair to spear and taiji people is gone! (and lets hope it never rears its ugly head again). It only took the IWuF removing the ability to do empty/short and long to make the WKF budge though... (for the record, I've heard before this change in the criterion there were a number of taiji people who were trying to learn nangun in order to have a third event. a travesty!)

Secondly, as often happens, I've been asked to list a summer wushu event, this one is for a 3 day training retreat in Beijing. click here for more details. I looked it over, and was somewhat shocked at the price tag, but the Waving Clouds Production people mentioned that this was quality instruction, with translation, and a 5 star hotel, etc. As long as you know what you're getting. And since I still get a lot of email about training in china, let me remind everyone to read this article
---
6/11/03 - Two things to share -

The big news of the week is the latest World Games news from the IWuF. The bombshell in there is that athletes won't be allowed to compete in both long weapon and short weapon, they can only do one. This is unfortunate, since it reduces the opportunities of the athletes to rEpReSeNt.

But the big impact is on the US Team Trials, and their now even more inappropriate selection criterion (which as I have mentioned in previous entries, is suited best to picking 'all-around' athletes, therefore its even more inappropriate because you can't even do all 3 events at the world games). I have tried to contact WKF officials, they say they "will let me know if any decision to change the rules is made." I urge everyone to email and call them up and demand a change! Contact them here.

Check out this nice site with videos and results from the Canadian Team Trials. Its pretty good, you can compare the judge's results with your own opinion. Feedback has been generally been of the sort that it was "not horrible like 2001" (pretty good? well still a lot of room for improvement...) It does look like the scoring isn't as good as it could be (to my eye, based soley on those videos)... hopefully no one is getting as physically angry as they did last time! At least the WKF has something to aim for. The video shows that the Canadian team is pretty competitive, look for a good showing at worlds I think...
---
6/04/03 - First of all, a quick update on the results from Canadian Team Trials - all reports are that things were much better this year then 2001, generally positive reviews of the selection criterion (too bad we in the US aren't that progressive?). The team for the 2003 Trials will be -
Men's Team - Sam Li - Doug Chin - Marvin Wong - Chris Chin
Women's Team - Katrina Leung - Ava Choy - Amy Wong - Candice Wong
Congrats to everyone who tried out and especially the guys who will be at worlds representing their country. Here are a few threads discussing the event from the message board - link 1, link 2, link 3, link 4.

Second of all - the WKF has finally put the reg form for US team trials online. Only 5 weeks to mail it in? Unacceptable! Unprofessional! (can you say certified express mail?) Just make sure your WKF membership is in there and accepted, otherwise you're up the creek (SO unprofessional!).

Also keep in mind that there has been NO information about judging so far. Who's organizing the judges? Who's running the trials? Who's judging? What's being done to ensure fairness? Wouldn't you like answers to these questions? Least you could expect? I suggest you contact the WKF by email, phone or fax and suggest they come up with some answers. (again we shouldn't need to be asking this kind of stuff!)

Third of all, while we're on the subject, someone emailed me asking what the 3 score sum method is and why am I always railing against it. Here is the description I replied with, it bears recording here -
What is the 3 score sum selection criterion and whats wrong with it?(brief version, see this news page back in early 2001 for more detailed reviewing)

Basically they require you to do three events, one emptyhand, one short weapon, one long weapon. they take the scores you get in those three events and they sum them up. they then pick the 4 athletes with the highest sum - those guys make the team.

It sounds simple but its not very fair. namely because -

1) there is no taiji long weapon divisions, this means taiji people have to do an external long weapon (and do it well!) this is pretty unreasonable.

2) screwing up in one event makes it next to impossible to make the team. This is a big deal for people who do spear. the compulsory spear set has like 7 or 8 parts where you have to throw the spear up in the air or shoot it out w/ one hand (ie places where you can REALLY screw up bad). Dropping your spear once means most likely you won't make the team (no matter how well you did in your other events).

Overall the problem is that the 3 score method picks 'all-around' athletes, people who are consistent, etc. The problem is that the world games doesn't have an all-around competition, it only has individual events, so why not pick people who excel in individual events?

Looking at hypothetical situations makes it more clear -


competitor A -
empty- 9.1
short- 9.0
long - 9.0
----------
sum - 27.1

competitor B -
empty- 9.5
short- 9.0
long - 8.5
----------
sum - 27.0


By the 'three score method' the first guy would make the team, and probably get like 20th place in all three his divisions. the second guy (who probably dropped his spear and got a 0.5 deduction) has a much better chance of doing well in at least one event, and possibly winning a medal.

Does that help explain it?
Fourthly, some more information about the Young America Wushu Summer Camps (taught by recently retired Beijing Team champions. First, click here for the flyer for the Grand Rapids, MI camp.

Also I have the location information for all the camps -

Phoenix
CENTRAL HIGH SCHOOL
4525 N. Central Ave. Phoenix, AZ 85012
602-271-2300
Phoenix Hotel Location:5001 N. Scottsdale RoadScottsdale, AZ 85250
480-949-1414

China Day Camp Colorado
Camp location Englewood High School3800 South Logan St Englewood, CO 80112-4207
Lodging location  Englewood, CO

China Day Camp Kansas
Camp Location Valley View High School
Lodging location Blue Springs, MO

China Day Camp: Michigan
Instructor Camp Location #1 Young Champions of America
165 54th Street
Wyoming, MI 49548
Camp Location #2 
Rogers High School
1350 Prairie Parkway Wyoming, MI 49509
Lodging location 
The Crowne Plaza 5700 28th Street S.E.Grand Rapids, MI 49546
(616) 957-1770

China Day Camp Ohio
Camp location Ground Level Martial Arts
5814 N. Main St Dayton, OH  45415-3101
(937) 279-6392
Lodging location  
Airport Holiday Inn I-70 & State Route 48 Dayton, OH 45415
(937) 832-1234

China Day Camp Illinois 
Bradley University Robertson Memorial Fieldhouse
Bradely Unversity 12 West Main Street Perioa, IL 61606
Lodging location 
Peoria Castle Lodge 117 Western Avenue Peoria, IL 616041
800-285-8637

China Day Camp Minnesota
Camp Location Hastings Middle School1000 West 11th StreetHastings, MN 55033
(651) 437-6111
Lodging location Super 8 Motel20800 Kenrick AvenueLakeville, MN55044 
(952) 469-1134

Contact chemcon@chartermi.net for more details.
---
5/24/03 - Hmm, a little slow on the updates, aren't we? well its good, here's a few things saved up then -

1. There will be a screening of the film Kung Phooey hosted by the Stanford Wushu Club on the Stanford University campus next Sunday at 2:30pm - You may recall that Kung Phooey sold out both its showings at the SF International Asian American Film Festival. Tickets will be on sale in advance, and as we know Stanford Wushu is good at selling out events, so I suggest you get your tickets sooner rather than later. Email me or try contacting the Stanford Wushu Club directly for more info.

2. I just went to see "Bend it Like Beckham" (a good movie, check it out), they ran a trailer for the US release of Shaolin Soccer (cause they're both foreign films about soccer?) The trailer does a good job of selling the movie, the audience reacted pretty well (better then they did for the other foreign films they were hawkin'...) Last I heard its coming out in the US in August. Get your friends to go! Stephen Chow is the man.

3. Last but not least, the WKF has finally released the selection criterion for the Team Trials (took them long enough). Click here to read them. - Depressing isn't it? They went ahead and stuck with the unfair and ineffective 3 score sum method. Whats worse is the WKF has basically pulled the plug on competitive taiji in the US by adopting these rules again. And whats more.... $100 fee? What the hell! This isn't a stand alone event, why so pricey? (there are a lot of whys when it comes to the WKF...). There has been a lot of negative reaction (and MORE negative reaction by me) on the Debate Zone. Here are some links to the threads:

Initial discussion
Impact of three score method on taiji
Feel free to start another thread to discuss it further. You'll notice no registration form has been released yet. Some kind of scam?

4. Oh, last last thing. Next week is Canadian Team Trials. I'll try to put results up as soon as I get them. Good luck to everyone, stay away from the SARS people in Toronto!
---
4/22/03 - This past weekend was the 11th annual UC Berkeley Wushu tournament, the final count on competitors was 542, thats up like 90 from the previous year. This is definitely the premiere wushu event in the USA! All those competitors (and an untimely serious injury in the taiji ring) made things go long (as late as 10 pm for some divisions, which is bad, but not as bad as 1997 (click here to check out the Old Skool wushu news coverage on that one [at the bottom of the page]!)

Don't ask how I did... it was just cool to see everyone there. Props to Eddie Quintana from NM, Tiffany Reyes from LA and Emilio Alpanseque (from... Burlingame?) for winning the men's, women's and senior all-around champs respectively. They should have results on the website soon.

Anyway despite the speed bumps (hey, 542 is a big competition!), this event really is raising the level of wushu in the US, following the lead set at Collegiates, real-time networked computerized scorekeeping was instituted in addition to online registration and other innovations being pushed forward by the students at Berkeley (who I have the pleasure of working and training with). The best thing is that they try every year to learn from their mistakes and improve for the future. (something that a lot of other tournament organizers seem to be missing).

Lastly I wanted to update the info on the Wushu summer camps I announced on 4/6 - The 7/21 N. Carolina date has been cancelled, and in its place there will be an instructors camp in Grand RApids, MI from July 21th-24th [re-revised on 4/24]. Topics covered included advanced techniques, coaching, judging and criteria for chorreography of new routines.
---
4/12/03 - Hey guys, a quick update. I'm in DC right now on bidness, but I managed to get some time to visit the Chinese Martial Arts Institute (cmai-va.com) in nearby Fairfax. My friend, former Beijing Team member Li Ying is coaching there now, and let me tell you, she leads a good workout! I was really impressed with the facility too, full sized ring w/ carpeting, mirrors, etc. Anyway I wanted to give a shout out to everyone there for being so friendly (ha, I hope you weren't too disappointed to meet me in person!) and thank Li Ying and Clarence Burris for letting me drop in. They are planning a big tournament for Spring 2004. I'll put up info for it when it comes out.

Nice to see some east coast wushu in effect though.

Oh one other thing... SARS... unfortunately its spreading around China (or actually, has been spreading, we're only now finding out about it). I know of at least two or three wushu schools that have cancelled their summer trips to train in China (doh! there may be more, those are the only ones i've heard of so far) So if you hate crowds but don't mind face masks and rubber gloves... this might be a good time to go to china to train!
---
4/6/03 - An exciting announcement for Beijing Wushu fans in the US. An annoucement for summer wushu camps to be held this summer around the country. From what I understand the camps will be aimed giving a well-rounded introduction to wushu novices. Recently retired Beijing Wushu Team head coach Wu Bin is heading the program and the coaching staff will include recently retired Beijing Wushu Team champions. Here are some details from the email I recieved:


We are teaching the new international forms accepted through the IWuF.
Students will learn basic wushu technique, Chang Chuan, Broadsword and Staff
over a 5 day period.  They will also have a chance to learn Lion Dancing and
other Chinese cultural activities.

Dates are as follows:
June 30-July 4 Phoenix, AZ
July 7-July 11 Colorado (city TBA)
July 14-July 18 Kansas City
July 21-July 24 Grand Rapids, MI (instructors camp - updated 4/24)
July 28-August 1 Grand Rapids, MI
August 4- August 8 Ohio (city TBA)
August 11-August 15 Peoria, IL
August 18-August 22 Minneapolis, MN

Coaches for the camps are:
Wu Bin
Kong Xiangdong
Jiang Bangjun
Li Qiang

People can contact the
Young American Program
Jeff Wagner or Jason Hoard
616-538-2888 or 989-751-0396 mobile
or email chemcon@chartermi.net

I definitely encourage everyone to check these out if they're in your area. If I get more info, I'll post it up here.

ALSO - Team trials has been confirmed - by the USAWKF:
Taolu Team Trials - July 26-27
Sanshou Team Trials

No selection criterion though. Let's hope the USAWKF will continue their current trend of actually including external dialogue in planning these event's criterion.
---
3/31/03 - Sorry for the lack of news updates, things have been hectic for me and not that much news... a few things to note:

The USAWKF has put out a News Item about changing the date of Team Trials from June to July (after originally saying they would probably be in April). The reason cited is the fact that June 7th-8th happens to coincide with a lot of schools' finals). Well I have to say I'm impressed that they are actually caring about scheduling an event that people can actually attend! Putting it in July would mean holding it during the WKF's nationals... which could actually mean a well attended Nationals ("attended", even if not everyone's competing in the actual nationals). Still, no criterion announced. Even (possibly) moving it back a month doesn't make up for the fact that they need to come up with a good (yes Good, not like 2001!) selection criterion this time, and make sure everyone has a chance to prepare (again, not like 2001). A secondary bonus of moving the date to july would mean that it wouldn't actually be in Baltimore! (yeah!)

On the media side of things - Tonight was the premiere of "Black Sash" on the WB network here in the US. Our old pal Russell Wong has made his return to episodic television (remember Vanishing Son?) I watched the last half, not too bad, think.... Dawson's Creek meets Karate Kid meets... Vanishing Son...

Also I had the chance to see an advanced screening of the US version of Stephen Chow's Shaolin Soccer - which should be released in the US in August 2003 (hmm, only 2+ years after its HK release...) The dubbing wasn't too bad (no worse then things like Supercop and Black Mask when released in US theaters), and yes, Stephen Chow does his own voice in English. His english isn't too bad, actually sounds a bit like Bruce Lee's English... not too surprising seeing as Bruce has played such a clear influence on Stephen Chow's movies... They have recut some of the movie, including a few of the 'special edition' scenes off the DVD, and cutting a few odds and ends too (seems to me that they wanted to cut the running time down). The people in the preview screening really enjoyed it though, many of who weren't at all HK film fans.

Last but not least, I'd be remiss if I didn't put in a plug for April's biggest wushu event, the UC Berkeley Wushu Club's 11th Annual Chinese Martial Arts Tournament. Last year was like 450+ competitors and one of the best organized events in our sport in YEARS (in the US). Continuing from the trend setting advances of collegiates last november, there will be electronic scorekeeping. Also for the first time, they're including Online Registration! (in addition to regular paper registration). Events like these are really setting the trend for how competitions should be run, we as wushu 'consumers' definitely should be paying attention and demanding more from tournament promoters and wushu organizations (vote with your $$$!)
---
2/8/03 - Just a quick update. I want to use this space to publicly congratulate the Stanford Wushu Club for putting on a terrific new years performance on Friday night. It was "A Night of Wushu" on the Stanford campus, featuring the Stanford wushu club and the Pacific Wushu Academy (both coached by Phillip Wong and Zhang Hongmei). The auditorium seated 700 and they sold out, AND had to turn away a bunch of people (something like 300?!?!) at the door! wow. Its great to see what a dedicated team of college students can put together if they try. I'll see if I can find some links to some pictures (Kungfu magazine was in attendence, maybe they'll have some photos in their upcoming issues). The demo was pretty impressive, sparring sets, group sets, individual sets of course.

Still no word on US Team trials. Which is a good thing, maybe that means the USAWKF has decided NOT to be foolish and make the team trails really really early (in April) for no good reason. Let's keep our fingers crossed! And again, I encourage everyone to contact the USAWKF and urge them to NOT have 2003 be a repeat of the crock that the 2001 Baltimore trials were. (where 7 of the 8 US team members came from the school that organized the trials. Sounds bad doesn't it?) I fully encourage everyone to "abuse the freedom of the internet" by emailing luxiaolin@omei-wushu.com, usawkf@usawkf.org, info@tatwong.com and telling them how important you think it is to do it RIGHT this time(ie FAIRLY!).
---
2/01/03 - Happy Chinese New Year! OK, its been a while since I last updated the news. I spent three weeks in China and have also been working feverishly to finish the rest of the 2002 China Nationals VCDs. Take a look at them and their trailers here -

http://www.beijingwushuteam.com/products/2002/

Also check out the random picture page for a shot from the trip. Once my school live settles down, I'll try to take some of the footage I took of the Beijing Team training and put it online.

Last but not least, much discussion going on about upcoming events for 2003, most notably Team Trials. Hopefully the people planning the USAWKF's team trials will ABANDON THE ILLOGICAL "3 Score Sum" METHOD" as it is counterproductive to selecting a good team. (and if I could be picky (which of course I usually am when it comes to these types of things), I'd also say that holding it in April is also pointless, seeing as the World Games aren't until November. June or July would be much more reasonable. No sense in rushing to pick a team 6 months in advance. A lot can change in six months. Everyone should mention this to their coach and have them call up the USAWKF and demand logic! I recommend a selection system similar to Canada's method, using a "2 score sum" method, its more fair to Taiji and Spear athletes and its better for picking a more competitive team.
---
---
Click here to view more past installments of Raffi's Wushu News.
---
Send feedback to raffi@beijingwushuteam.com