CLICK HERE TO GO BACK TO BEIJINGWUSHUTEAM.COM
CLICK HERE TO GO TO THE WUSHU NEWS
CLICK HERE TO GO BACK TO THE ALL CHINA GAMES PAGE

2001 9th All China Games Wushu Competition
ShunDe, Guangdong, China - August 21-23, 2001

&nbsp
Some of my pictures taken at the All China Games, mostly just of people getting medals (from far away), I was too enthralled with the great wushu to take many photos, sorry! More pictures coming soon though. (Last Updated 9/01/01).
&nbsp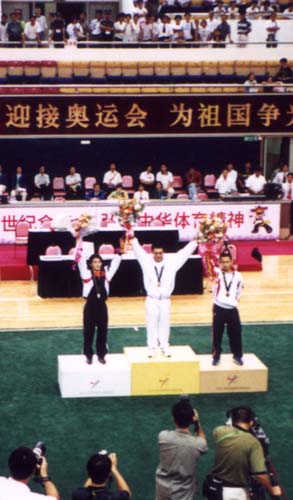 The Medal ceremony for Men's Changquan. That's Yuan Xindong of the Shanxi team in the center, Zhao Qingjian of the Beijing Team who took second and Zhang Xiaopeng from Tianjin on the right. There was a lot of press in attendence, both newspaper and television. Audience attendence was also really good, even selling out the final night for the Sparring Sets.
| | |
| --- | --- |
| | |
| Liu Qinghua's victory in Women's Changquan. She triumphantly holds her trophy up to share with the wildly applauding audience. Wang Xiao Na, also of the Beijing Team took second place and Han Xiaonan of the Tianjin team took third. | Liu Qinghua again takes the podium, this time taking second place in the Women's Straightsword/Spear combined division. Zhao Yang Yang of the Henan team took first, and Jiang Lu di also of Henan took third (she hasn't stepped up on the platform yet unfortunately). |
| | |
| --- | --- |
| | |
| The controversal results of Men's Taiji Combined. (click here to read about it). Yi Peng of Hebei was given the gold, Kong Xiangdong, competing for Guangdong was given the silver, and Zhuang Zhiyong of Ningxia got the bronze. | The Women's Taiji awards. Liang Xiaokui of Guangdong took the gold, Fan Xueping of Anhui got the silver and last, but certainly not least, Qiu Huifang of the Beijing team took the bronze. |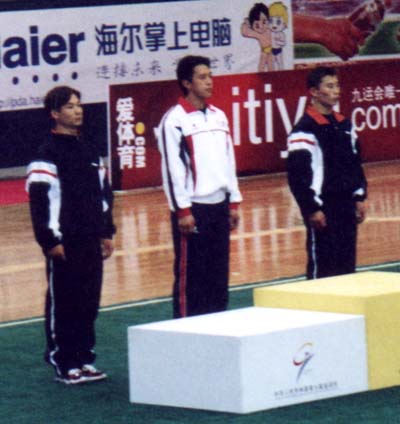 The results from Men's Broadsword/Staff, that's the Beijing Team's Jian Zenjiao on the left getting the silver and He Jingde on the right getting the bronze, and Zhang Xiaopeng of the Tianjin team in the center getting the gold.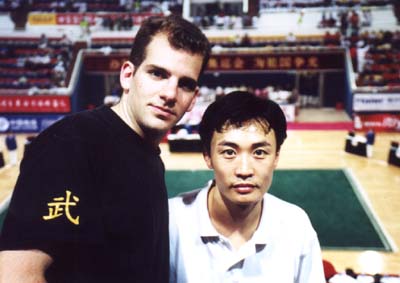 After his competition was over, Kong Xiangdong and I took a picture from the stands.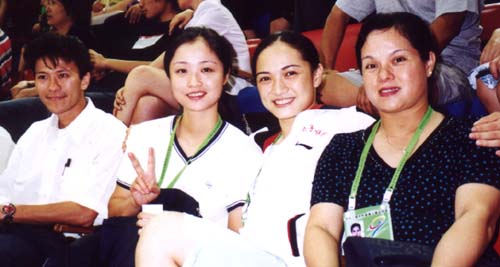 Also in the stands, I snapped this great shot of wushu superstars kicking back. On the far right that's Guangxi Team coach Chen Xu Hong, second on the right is Women's Nanquan Champion Huang Chun Ni, also of the Guangxi team. Second to the left is the bronze medal winner in Women's Taiji, Qiu Huifang of the Beijing Team. To the far left is Zhuo Haojun, who currently teaches in Germany.
The venue for the competition, the Shunde Sports Center. The sign in front says "People's Republic of China 9th Games Wushu Forms Competition."
Click for Beijing Team Pictures from Sinowushu.com
CLICK HERE TO GO BACK TO THE ALL CHINA GAMES PAGE

---
---
Click Here to go back to beijingwushuteam.com

Send feedback to raffi at beijingwushuteam.com