CLICK HERE TO GO TO BEIJINGWUSHUTEAM.COM
CLICK HERE TO GO BACK TO BEIJING TEAM '95 TOP
Behind the Scenes with the Beijing Team
---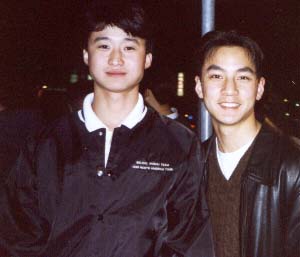 Wu Jing (left) of the Beijing Team, who recently starred in the Hong Kong movie Tai Chi Chuan(sans hair) and Dan Wu, founder of the University of Oregon Wushu Club, and part time Hong Kong actor/model.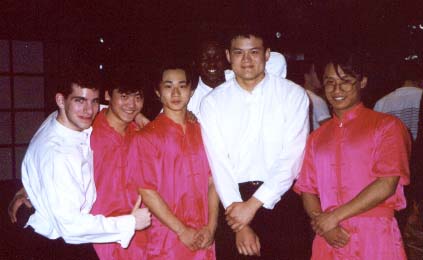 Raffi and Eric pose for a picture with Ka Li (Men's Southern Fist Champion of China), Qiu Dong Xing, and Di Gwan Wen (Men's All around Champion of China wearing Raffi's glasses).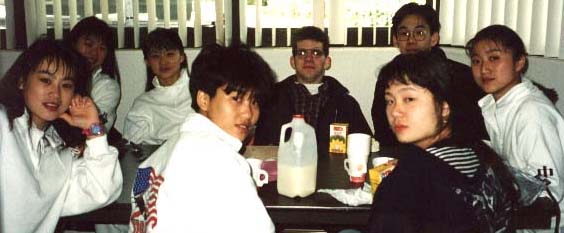 Kicking back, Raffi and his friends Janet Hsu and Patrick Lee, along with the women of the Beijing Wushu Team members (in white) Zhuang Hui, Tan Hua, Jing Yi, Liu Zaihong and Li Jing.

Former Women's All Around Wushu Champion of China, and Pen Pal of Raffi's, Zhuang Hui,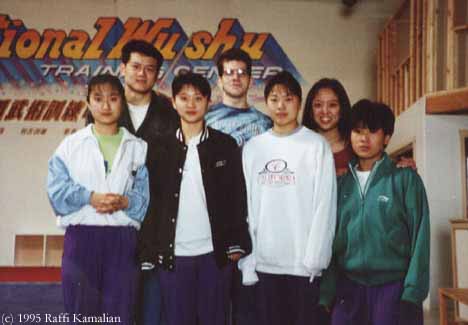 Raffi, Eric and Frances with Li Jing, Jing Yi, Tan Hua and Liu ZaiHong at the National Wushu Training Center in Hungtington Beach, CA (host of the Beijing Team tour in 95).
---
Click Here to go back to Beijing Team '95

Click Here to go back to www.beijingwushuteam.com

Send feedback to raffi at beijingwushuteam.com