CLICK HERE TO GO TO BEIJINGWUSHUTEAM.COM
CLICK HERE TO GO BACK TO BEIJING TEAM '95 TOP
Wushu Weapons
---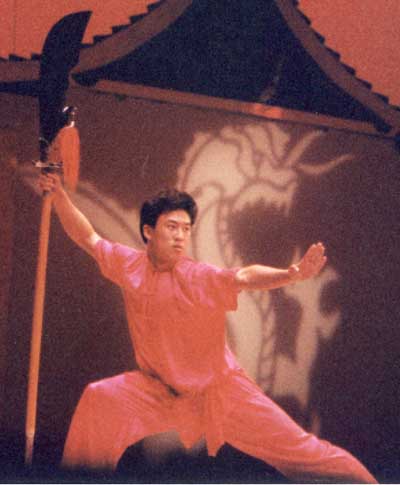 Shang Yu performs the Horse Chopper, so named because of its ability to cut off the leg of a charging calvery horse (and rider).

Jing Yi performs the double long tassle straight sword.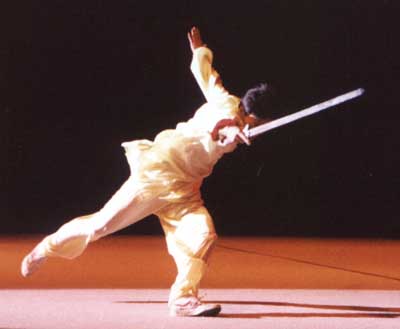 Kong Xiangdong performs drunken straight sword. A weapon wielding version of drunken fist, the practioner mimics the movement of a drunk in order to confuse and surprise his opponents.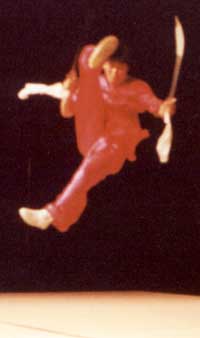 The acrobatic He Jing De executes a jump inside crescent kick while wielding a pair of broadswords.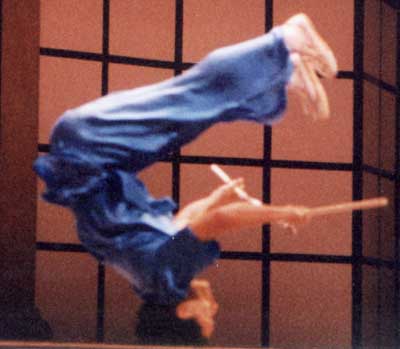 Di Guang Wen, former Men's All-Around Champion of China performs a head flip during his 3-section staff routine. The 3-section staff is three pieces of wood connected by short chains. As a flexible weapon it is both difficult to defend against as it is to brandish.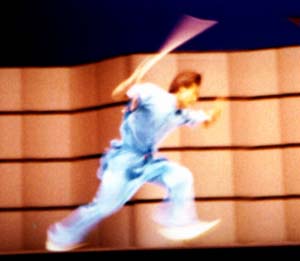 Di Guang Wen, about to execute a jump inside crescent kick with the 3-section staff.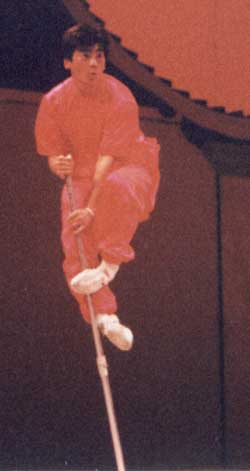 Ka Li, former Men's All-Around Nan-Quan Champion of China performs the Monkey Staff. Monkey style imitates the fighting and movement of a monkey; monkey staff arms the monkey with a short thick staff, which he sometimes climbs to take a look around.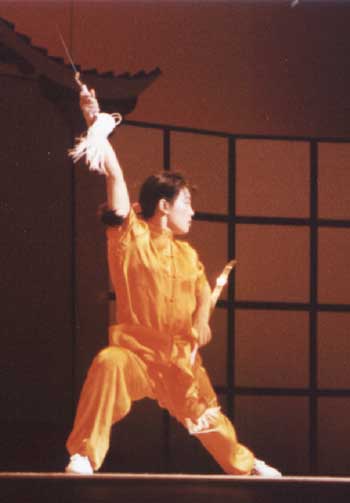 Zhuang Hui, former Women's All-Around Champion of China demonstrates the double straightsword, characterized by blinding speed and tremendous grace.

---
Click Here to go back to Beijing Team '95

Click Here to go back to www.beijingwushuteam.com

Send feedback to raffi at beijingwushuteam.com