CLICK HERE TO GO BACK TO BEIJINGWUSHUTEAM.COM
CLICK HERE TO GO TO THE WUSHU NEWS
&nbsp
&nbsp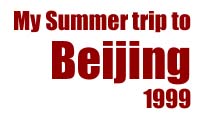 &nbsp
&nbsp
&nbsp
Chapter One
Chapter Two
Chapter Three
Chapter Four

These four chapters are about my trip to China in the summer of 1999. I spent four weeks training in wushu and exploring the capital city. It has taken me a while to get this latest series of articles started. I wasn't sure how much of my summer trip to present to the general public. I think this will turn out to be a bit of a departure from my previous articles about the Beijing Team and my other photoessays. I wanted to present a bit of what I saw and did in China, the kinds of things that stood out in my memory. I also wanted to give people an idea of all the things there are to do in Beijing and to show a little bit of what its like to train in China. Personally I feel the most interesting stuff was about China, not necessarily about the wushu. But I'll also throw in some pictures of some wushu in there since this is a wushu website.
Updates:
Chapter One added 10/25/99
Chapter Two added 10/28/99
Chapter Three added 11/14/99

Update - 3/2/07 - Wow, its been almost 8 years since this occurred! Time flies. I celebrated my 25th birthday on that trip and now I'm almost 33 (yikes!) China certainly has changed quite a bit since the events chronicled here, especially Beijing and particularly the area around Shichahai, where the Beijing Team trains. Most of the people mentioned in this article have moved on as well, many are living outside of China (US, Macau, Japan, etc) and most have stopped competing. The two young girls who were there at the same time, Dam Thanh Xuan and Nguyen My Duc, have gone on to compete and win many medals on the Vietnamese team at the World Wushu Games, Asian Games and SE Asian Games.
Despite being quite dated, I hope at least this photo essay will give current visitors a useful record of how Beijing was at that point in time.
&nbsp
---
Click Here to go back to beijingwushuteam.com

Send feedback to raffi at beijingwushuteam.com